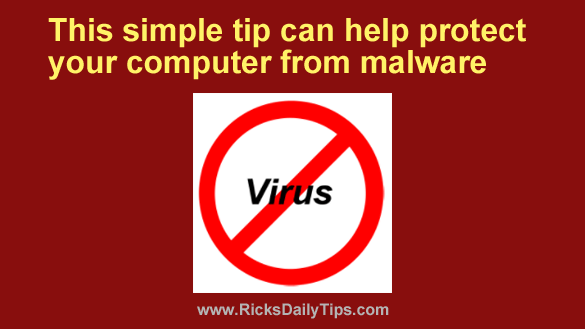 Unfortunately, in the Internet age, viruses and other forms of malware tend to spread like wildfires, and it's getting harder by the day to keep your devices from getting infected by them.
That's why it's important to install a high quality antivirus program on your Windows computer, keep it updated at all times and perform a couple of on-demand malware scans on a regular basis.
Macs aren't as likely to get infected with malware as Windows machines, but it's happening more all the time. That's why I recommend running frequent scans with Malwarebytes for Mac.
With all of the above being said, a little due diligence can go a long way towards keeping your machines safe as well.
Although there are plenty of exceptions, many of the malware executables that make their way onto your machine require you to actually click on the file in order for it to spring into action.
Many malicious files that depend on your clicks to activate them end with the file extension .exe on Windows machines and .app on Macs.
Unfortunately, most Windows PCs and Macs hide file extensions from the user by default, which makes it difficult to identify potentially malicious files by their extension.
Luckily, it's very easy to force your computer to display all file extensions, including the .exe and .app extensions that are attached to so many malicious files.
Just follow the steps below for your computer's operating system…

Windows 10:
1 – Press the Windows+E key combination to open File Explorer.
2 – Select the View tab.
3 – Check the box beside File name extensions.

Windows 11:
1 – Press the Windows+E key combination to open File Explorer.
2 – Click View>Show>File name extensions.

macOS:
1 – Click the Finder link on the top menu bar.
2 – Click Preferences and select the Advanced tab.
3 – Check the Show all filename extensions box.

That's it! From now on you'll be able to identify executable files by their .exe or .app file extensions. If you see one, don't click on it. Instead, stop what you're doing and run the scans mentioned in this post right away.
Important: Not all files that end in .exe or .app are malicious in nature. That's why I recommend running a thorough malware scan instead of just deleting the file outright.
Bonus tip: This post explains how to make your Windows PC start up with your last-used programs and websites already open.
---