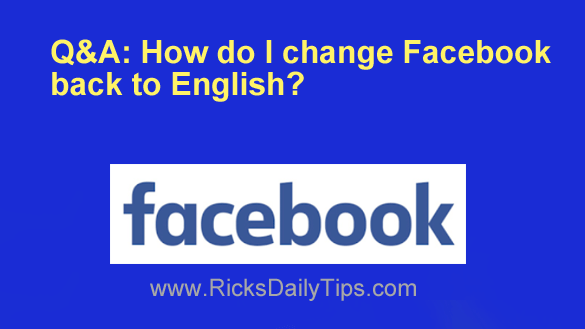 Question from Fran:  Rick, I need your help with a very strange problem.
I turned on my computer this morning and saw that somehow my Facebook had gotten switched to some language that I can't understand.
I can't figure out how to change it back to English because I can't read the menus.
Can you help me get my Facebook account back to where it's using English? 
Rick's answer:  This might surprise you Fran, but this is actually a fairly common issue with Facebook. It happens all the time in fact. Truth be told, all it takes is an errant mouse click.
While you can change the language back to English via Facebook's Settings menus, as you have found out, that can be difficult if you have trouble navigating the menus due to the unfamiliar language.
Luckily, there's a much easier way that only involves a few mouse clicks. Here's how:
1 – Open Facebook in your browser, then log into your account and visit this page:
https://www.facebook.com/settings?tab=language
2 – In the right-hand pane, click the button at the far right end of the top line.
3 – Click the arrow to open the drop-down menu, then scroll through the list of languages until you find English (US) or whichever dialect of English you use in your country, then click on it to select it.
4 – Click the button that's highlighted in blue to complete the switch back to English.
That's all there is to it. Your Facebook account should now be using English as the default language once again.
I hope this helps, Fran. Good luck!
Update from Fran:  Thanks for the instructions, Rick. They worked like a charm.
Bonus tip: The Facebook app is wonderful tool for keeping up with your friends and family via your mobile device, but it can be finicky and stop working at any time. This post explains how to get it back up and running when that happens.
---