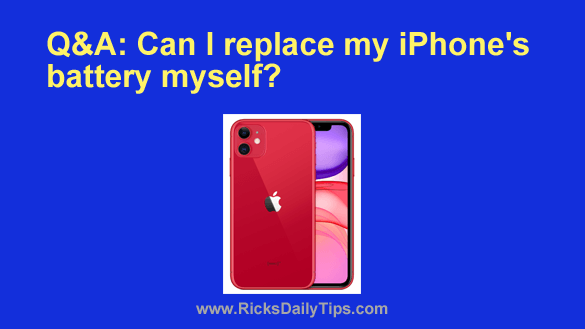 Note: The links in this post are affiliate links.
Question from Pam:  Rick, I have recently gotten a new iPhone so I'm giving my old iPhone 11 to a friend.
I have wiped it clean, so I am good there. But now the battery is not staying charged much at all.
I've heard that you have to take an iPhone to the Apple store to have the battery changed, or they would give you a new phone.
Well, with my experience I'm pretty sure I can change it myself if I order a battery, and it'll be cheaper too.
With your knowledge, do you think I should to take this phone to an Apple store to have the battery changed, or can I do it myself? And if I can, where can I buy a replacement battery?
Rick's answer: Pam, changing the battery in most iPhone models isn't all that difficult, but it does require all of the following:
1 – The proper tools for completing the job
2 – At least a little mechanical aptitude
3 – Good eyesight and a steady hand
4 – The ability to pay close attention to detail and follow instructions to the letter
This is why the above requirements are important…
The components inside any mobile device are necessarily very small and fragile. The slightest slip with a tool can cause serious damage, especially if you try to "wing it" by using tools that weren't really designed for the job.
However, all of the above being said, it appears that you have some type of applicable experience that should help you successfully complete the task of replacing the battery in your old iPhone.
And besides, you're literally planning to give this phone away after you have replaced the battery (which is very nice of you by the way) so it won't be a huge loss if something ends up going wrong and damaging the phone.
Therefore, in my humble opinion, I think you should go for it!
I did a quick search on Amazon and found this large selection of iPhone 11 replacement batteries, most of which come bundled with the tools required to remove the old battery and install the new one. It's hard to get any more convenient than that.
I also took the liberty of doing a quick search on YouTube and found this fantastic video from the folks at iFixit that shows exactly how to replace the battery in your iPhone 11, step-by-step:
Note: You can watch the video at full screen by clicking the little "square" icon in the lower-right corner of the video after it begins playing.
As you can tell from the video it isn't all that difficult to replace the battery in most iPhones.
Bottom line: I do believe it's worth taking a shot at replacing the old battery in your iPhone yourself. I have a feeling you'll do just fine.
I hope this helps, Pam. Good luck!
Update from Pam:  I watched the video and the instructions seem pretty clear. I'm going to give it a shot. Thanks for the advice.
---