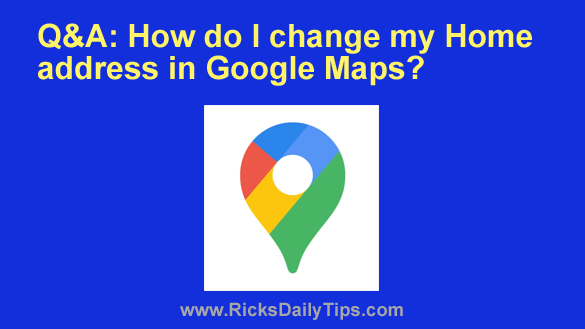 Question from Jeri:  I really love your site, Rick. I've learned a lot from it since I started following you.
I have a question regarding the Google Maps app on my phone.
I recently moved from Bridgeport, Connecticut to Clayton, Ohio and I need to set my new address as my Home address in Google Maps.
Would you mind telling me how to do that? 
Rick's answer:  I'll be happy to help you with this, Jeri. Just follow the steps below to update your Home address in Google Maps:
1 – Open the Google Maps app.
2 – Tap Saved at the bottom of the screen.
3 – Tap Labeled.
4 – Tap the three dots at the far right end of the "Home" line.
5 – Tap Edit home.
6 – Tap the address that already displayed in the text field and delete it.
7 – Start typing your new address.
8 – When you see your new address pop into the list of possible addresses, tap on it. The map should now update to show your current address.
9 – Tap the Done button.
10 – Keep tapping your phone's Back button until you're back on the app's main screen.
11 – (Optional) Repeat the steps above to update your Work address as well. Just tap the three dots on the "Work" line when you get to step 4.
That's all there is to it. Your new address should now be set as your Home address in Google Maps.
I hope this helps, Jeri. Good luck!
---