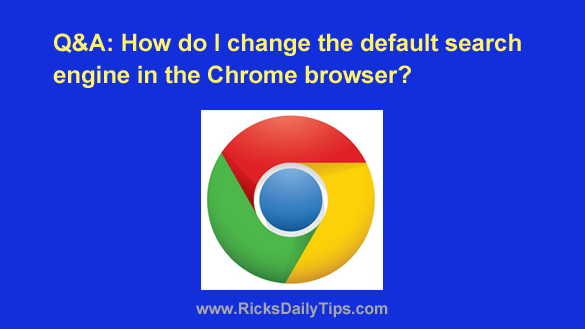 Question from Mona C.:  My son came in from college to visit me for the weekend and he borrowed my computer while he was here.
After he left I noticed that the default search engine in my Chrome browser had been changed from Google to Yahoo.
I really prefer Google so I'd appreciate it a bunch if you can tell me how to switch it back!
Rick's answer: I prefer Google over Yahoo as well Mona, so I can understand why you'd like to make it the default search engine once again. Here's how to do it:
1 – Open Chrome and click the Menu icon in the upper right-hand corner of the window (it looks like three vertical dots).
2 – Click Settings.
3 – Scroll down to the "Search Engine" section and click on the word Yahoo.
4 – Select Google from the drop-down list.
5 – Click the X in the upper right-hand corner of the window to close the browser.
6 – Reload Chrome and verify that Google is once again the default search engine.
Note: The procedure below can be used to set Chrome to use another search engine besides Google as the default browser. Just choose the search engine of your choice in step 4 above.
That's all there is to changing your default search engine back to Google, Mona.
But there's something else that you need to think about as well: How did it get changed to Yahoo in the first place? Which brings me to this…
While it's true that your son might simply like Yahoo better than Google, prompting him to make it the default search engine, I doubt that that's what happened here.
Most people in your son's age group prefer Google over Yahoo, so I'm guessing that something else caused the switch to Yahoo – the most likely culprit being malware.
Just to be safe, I recommend that you follow the steps in this post to perform a thorough malware scan of your PC.
I hope this helps, Mona. Good luck!
Update from Mona:  Thanks Rick. I was able to change the default search engine back to Google, and sure enough the scans you recommended found several viruses on my computer.
Thanks so much for your help!
Bonus tip: This post offers 8 tips for searching Google like a pro.
---
Never miss a tip!  Click here to sign up for my free Daily Tech Tips Email Newsletter!