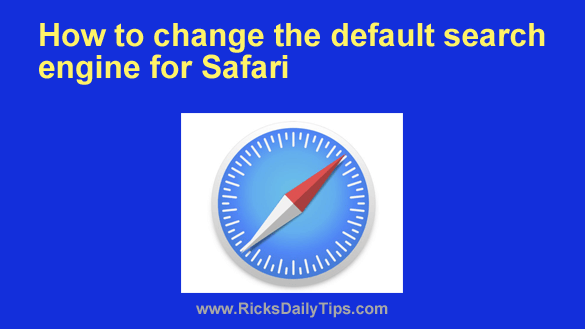 Like other popular web browsers, Safari allows you to choose the default search engine you want to use when you search for something on the web with your Apple device.
Safari comes pre-configured with Google set as its default search engine, but you can easily change that to Bing, DuckDuckGo or one of several other popular search engines if you choose to do so. 
Just follow the steps below for your device to switch from Google to another default search engine of your choice.

If you have a Mac desktop computer or MacBook:
1 – Open the Safari browser.
2 – Select Safari from the top menu bar, then click Preferences.
3 – Click the Search tab and then select a new default search engine from the drop-down box.

If you have an iPhone or iPad:
1 – Tap on your device's Settings icon (it looks like a "gear").
2 – Scroll down to the list of installed apps and tap Safari.
3 – Tap Search Engine, then select a new default search engine from the choices you see on the screen.

That's all there is to it. From now on all the web searches you perform with this device will use the search engine you selected as the new default.
---