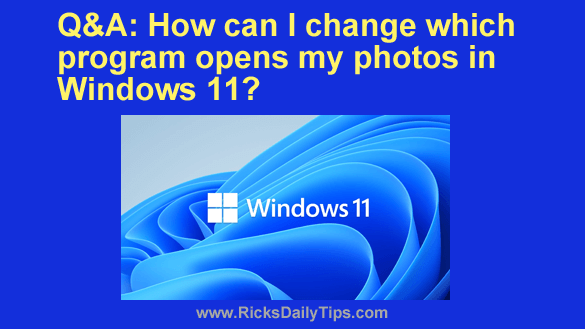 Question from KellyAnne:  I just bought a new computer with Windows 11 on it.
One of the first things I did while setting it up was install FastStone Image Viewer on it because that's what I used on my old Windows 10 computer, and I love it.
The problem I'm having is every time I try to view a photo it opens in the Photos app (which I hate) instead of FastStone.
How can I make my pictures open in FastStone Image Viewer? 
Rick's answer:  I think you made a wise choice, KellyAnne. I'm a long-time fan of FastStone as well.
To answer your question, you can easily set Faststone Image Viewer as your PC's default image viewing app with just a few mouse clicks. Just follow the steps below:
1 – Right-click on the Start button, then select Settings from the menu that pops up.
2 – In the left-hand column, click Apps.
3 – In the right-hand pane, click Default apps.
4 – Scroll down and click FastStone Image Viewer. You should now see a list of image file types.
5 – Scroll down and click on the file type that you use most often (.jpg for example).
6 – Click FastStone Image Viewer and then click OK.
7 – Repeat steps 5 and 6 until you have designated FastStone Image Viewer as the default app for every image type you work with.
Note: If you ever decide to designate a different app as your default image viewer app just follow the steps above again and substitute the name of the app you wish to use in place of FastStone Image Viewer.
That's all there is to it. From now on your photos should always open in FastStone instead of Windows' native Photos app.
I hope this helps, KellyAnne. Good luck!
Update from KellyAnne:  I knew you'd have the answer, Rick. Thanks.
---