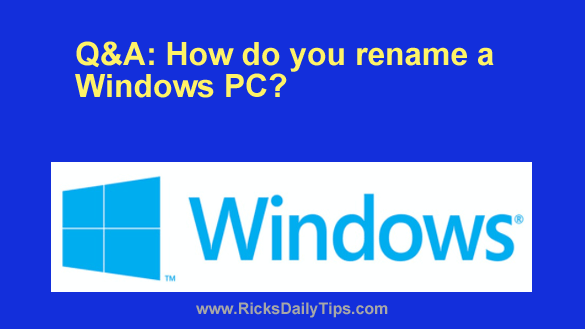 Question from Harley:  I own a small business with six employees.
I just bought brand new Windows desktop computers for every desk. They were close-outs and I got a really good deal.
The fellow who delivered the machines and set them up gave all of them names that are little more than random strings of characters.
How do I change the 'Device Names' on these computers to something that's more descriptive?
Rick's answer:  I can understand your frustration Harley. The tech who set your new PCs up for you should have consulted with you and/or your employees in regards to naming the new computers.
Luckily, it's quite easy to change the names of your new Windows 10 computers. Here's how:
1 – Sit down at the first computer to be renamed.
2 – Right-click on the Start button, then select System from the menu that pops up.
3 – In the right-hand pane, click the Rename this PC link.
4 – Type the new name you have selected for this PC into the input box, then click Next.
5 – Click the Restart now button.
The PC will now shut down and restart. The new name you assigned to this machine will be active once the system boots back up into Windows.
6 – Repeat the steps above for each of the other PCs in your office.
I hope this helps, Harley. Good luck!
---