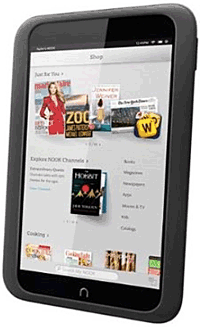 Question from Cassie:  Hello Rick. I have a Nook HD and I like it pretty well. I'd really like to buy a Kindle Fire HD but it'll be a while before I can afford one.
In the meantime I really need to be able to take screenshots on my Nook HD every once in a while and email them to my friends. I'm pretty sure this can be done but I can't figure out how to do it. Can you tell me?
Rick's answer:  The Kindle Fire HD is a fantastic tablet Cassie, but the Nook HD is a good one as well. I hope yours continues serving you well until you're ready to buy your Kindle. When that time comes, you might want to check out the Kindle Fire HDX as well as the regular HD model.
To answer to your question, it's actually pretty easy to capture a screenshot on your Nook HD. Here's how to do it: 
1 – Press the Volume Down button and the N button at the same time and hold them for approximately 2 seconds. The screen will quickly display a preview of the screenshot to let you know that the screenshot has been captured.
2 – Use your Nook HD's native email client to send the screenshot to the recipient. If you never use your Nook's email client, continue with step 3 below.
3 – Connect your Nook HD to a PC with a USB cable.
4 – Copy the screenshot file from the Pictures>Screenshot folder on your Nook device to your computer's hard drive.
5 – Send the screenshot to the recipient as an email attachment.
That's all there is to it Cassie. Good luck!
---
Do you have a tech question of your own for Rick? Click here and send it in!