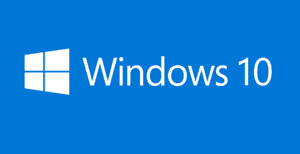 Question from Billie:  I upgraded my computer from Windows 7 to Windows 10 and now I'm having trouble scrolling web pages with my mouse wheel.
Scrolling worked just fine with Windows 7. What can I do to make it work correctly in Windows 10? Thanks in advance for your help.
Rick's answer:  Billie, lots of folks started having trouble scrolling within open windows after installing the Windows 10 upgrade. I have done some testing and the issue seems to be related to a new feature in Windows 10 called "Scroll inactive windows".
In a nutshell, the "Scroll inactive windows" feature lets you use the mouse wheel to scroll in any visible window on the screen without first clicking on the window to make it the active window. It's a great idea in theory, but it appears to be a little buggy.
Like you and so many others, I had trouble scrolling with my mouse wheel after upgrading to Windows 10. But disabling "Scroll inactive windows" cleared up most of the scrolling issues for me. If you'd like to give it a try yourself, follow the steps below:
1 – Click the Start button.
2 – Click Settings.
3 – Click Devices.
4 – Click Mouse & touchpad.
5 – Toggle the "Scroll inactive windows when I hover over them" setting to Off.
Here's a screenshot that shows the changed setting: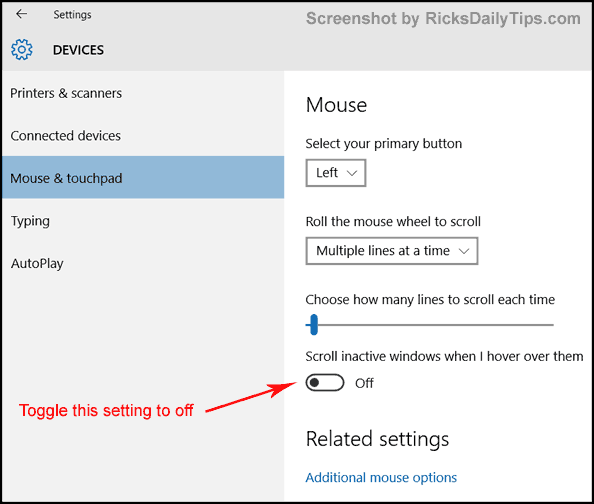 That's all there is to it Billie. With any luck your mouse wheel should now scroll your web pages much like it did when you were running Windows 7. Good luck!
Update from Billie:  That worked like a charm Rick. Thanks!
If you like this post you can get my latest tips in my weekly RicksDailyTips Email Newsletter. Sign up for free at the bottom of this page!
---
Do you have a tech question of your own for Rick? Click here and send it in!