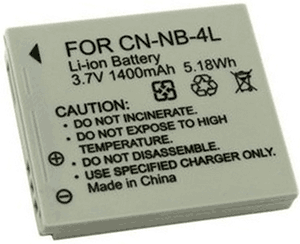 Question from Roger T.:  I have a Canon Powershot SD630 digital camera that I've had for several years. When I bought the camera I also bought an extra battery because at that time I was taking a lot of pictures on a regular basis.
The camera was working fine when I stopped using it about 8 months ago (I bought a Canon DSLR), but I recently pulled it out of the drawer to take a few snapshots.
Well, long story short, it didn't work. It tells me the battery is low every time I turn it on. It does this even after the battery finishes charging to 100%, and it makes no difference which battery is installed.
It seems unlikely to me that both batteries would have gone bad at the same time. Do you think the problem is with the camera? And if it is, do you think it's worth repairing?
Rick's answer:  Roger, I do believe the problem is with the batteries (yes, both of them).
The SD630 was released in early 2006, which was 9 years ago. Battery technology has improved considerably in recent years, but 9 years is an eternity for rechargeable batteries.
Bottom line: I feel quite confident that a new battery will fix your camera's charging issue. If you can't find one locally, Amazon
(#ad) has plenty to choose from starting at less than $10 (and many of them come with a new charger).
---
Do you have a tech question of your own for Rick? Click here and send it in!