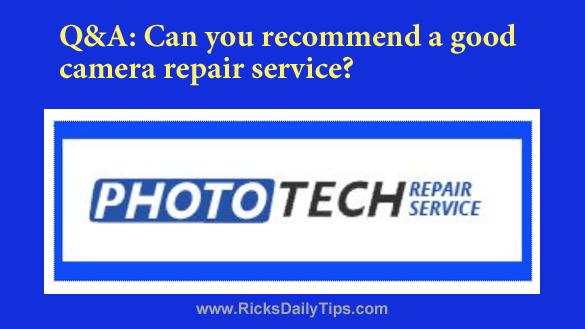 Click here to sign up for my free Rick's Tech Tips Newsletter!
---
Question from Barbara T.:  Rick, I have a Canon DSLR camera that I absolutely love, but I need to have it repaired.
My 4 year old got her hands on it somehow when I was out of the room and she broke the door to the battery compartment off.
The memory card slot seems to be damaged as well because the card won't stay in place.
I bought this camera from a local camera store that has since gone out of business, and the nearest camera repair shop is 110 miles away.
Do you know of a place I can ship my camera to in order to have it repaired? The cost isn't my primary concern, but cheaper is always better as long as the service is good. There are tons of places on the web, but I have no idea who to choose. Thanks for your advice!
Rick's answer:  Barbara, my favorite camera repair service by far is PhotoTech Repair Service. They do great work and their rates are very competitive.
You can get a quote on your repair by visiting their website and filling out a short form with your camera model and the type of repair that needs to be performed.
They'll respond with a quote pretty quickly, and if you like the quote you can ship the camera to them and they'll check it out.
If it turns out that they need to do something that wasn't covered in the quote, they'll contact you with an updated quote before doing any work on the camera.
To summarize, there are other great camera repair services out there, but I have always had great luck with PhotoTech Repair Service. I recommend them highly.
I hope this helps Barbara. Good luck!
Bonus tip: This post explains why the "Nifty-Fifty" is my favorite all-around camera lens.
---
Cick here to ask me a tech question.