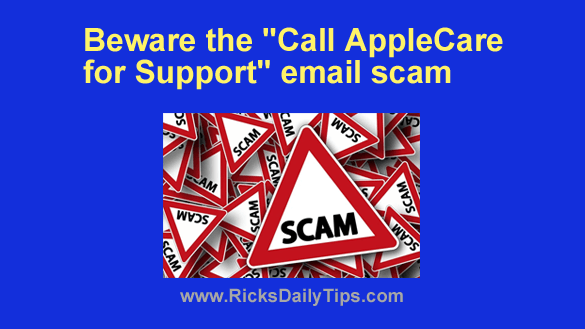 It seems like the scammers of the world never sleep, and unfortunately they're increasing in number every day.
The latest scam that's making the rounds is targeting unsuspecting iPhone users.
As usual, there are several slight variations of this scam, but luckily they're pretty easy to recognize if you know what to look for. 
This "Call AppleCare for Support" scam typically works something like this…
You receive an email with this subject line:
"[Your Name] Critical alert for your account ID …".
Of course your first instinct is likely to be to open the email to find out what the problem is. Don't do it! Simply delete the email and forget about it.
What happens if you open the email? You'll be told that someone has tried logging into your Apple account and that you should click a "Check Activity" button for more information.
If you click that button you'll be taken to a very realistic looking, but entirely fake "Apple" website. If you try to log in to your Apple account to "check activity" you'll end up handing over your login info to a hacker.
What's more, this fake website will also display a phone number for you to call to speak with someone from "Applecare".
Well, that phone number is real but the person who answers the phone won't be an AppleCare rep. It'll be a scammer who'll attempt to use social engineering techniques to scam you!
Bottom line: As I explained in this post, it's wise to ALWAYS be suspicious of "warnings" that arrive in your email inbox because they are almost ALWAYS fraudulent.
Even if the email appears to be 100% legit, it's best to ignore any links contained within it and visit the company's website directly and log in from there. If there's indeed a problem you'll be told about it when you log into your account.
And finally, if you receive an email like the one described above you should delete it immediately without even opening it. You can then visit the Apple website directly and sign in from there. If there's an issue with your account you'll be notified after you have signed in.
---