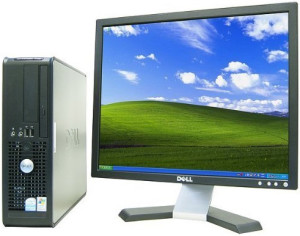 Did you know that you can buy a complete computer system on Amazon for around $100? Well, you can, and in some cases that price includes a monitor!
You'll find plenty of used computers (#ad) for sale on Amazon, many of which are indeed selling for around a hundred bucks.
Of course these are typically older systems, but they are in working order and well-suited for Internet use and many other tasks such as running an office suite. 
As an example, just this morning I saw a This Dell desktop PC with monitor (#ad) selling for little more than $100. In my opinion, that's a pretty good deal for the money.
Of course many of these older machines have relatively slow CPUs and the RAM and hard drive capacities are paltry by today's standards, but they are typically solid systems that should do a perfectly acceptable job for many common everyday tasks.
At about $100 one of these PCs would make a fantastic second family computer, or even a backup computer to use while your everyday computer is in the shop.
Bottom line: If you're looking for a gaming system or something that will run the full-blown Photoshop program, you'd probably be better off buying new. But if all you need is a computer to use to browse the Internet or type up papers for school, you can find real bargains on Amazon if you're willing to buy used.
Click here
(#ad) to check out the current deals on used computers at Amazon.
Notes: The Dell system mentioned above (and its price) was just one of the used computers that was selling on Amazon at the time I was writing this post. It might not be available or the price might have changed by the time you read this.
---
If you think your friends would like this post, I'd love you to share it! Thanks a bunch!