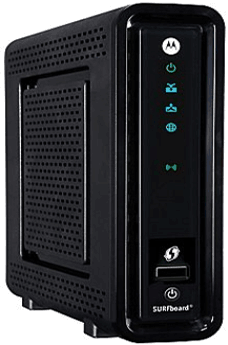 If you get your Internet service through Comcast, Charter or some other cable TV company, you are probably paying a hefty monthly rental fee for your cable modem. But you can save that rental fee by buying a modem of your own.
For example, if you have Comcast cable Internet, you're probably paying $7 per month just to rent their modem. That's $84 per year!
A better alternative in my opinion is to tell your cable company to keep their modem and buy your own!
The modem that I use and recommend is the Motorola SURFboard SBG6580 DOCSIS 3.0 Cable Modem and Wi-Fi N Router. (#ad)
This is an exceptional cable modem/wireless router combo that's currently selling on Amazon for about $100. 
Since most cable modems will last for years, you can buy your own for just a little more than the first year's rental fee, then use it for quite some time without having to pay any additional modem fees.
In addition to the fast DOCSIS 3.0 speeds, the SURFboard SBG6580 also comes with its own built-in wireless router. A modem/router combo box eliminates the need to buy an expensive stand-alone router while also eliminating a device from your crowded desk or workspace.
The SURFboard SBG6580 DOCSIS 3.0 Cable Modem / Wi-Fi N Router works perfectly with all major cable Internet providers including Comcast, Cox, Charter, Time Warner, Mediacom and Bright House. Setup is fast and easy, and you can use multiple wireless and wired devices simultaneously.
Bottom line: Buying your own cable modem could save you a ton of cash, especially after the first year. And buying one with a wireless router built-in will save you even more.
Click here (#ad) to check out the Motorola SURFboard SBG6580 DOCSIS 3.0 Cable Modem and Wi-Fi N Router at Amazon.