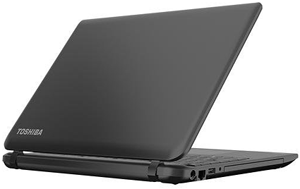 Question from Brenda F.:  Hi Rick. I have a question about my Toshiba laptop.
I bought it about 8 months ago and everything was fine until last night. All of a sudden I started smelling a strong burning smell coming from the bottom of the computer.
Everything seems to be working fine other than the awful smell. No part of the case feels any hotter than it should be, and the air expelled by the fan feels relatively cool to the touch.
Do you think I can safely ignore the smell and keep using the laptop without causing any damage to it?
Rick's answer:  Brenda, if I were you I would turn the laptop off and stop using it immediately.
This machine obviously has some sort of hardware issue, and it could end up damaging the motherboard or some other part(s) beyond repair if you keep using it. In fact, it could even cause a fire!
Unplug any cables that are attached to the laptop and remove the battery. Then call Toshiba Customer Support at (800) 457-7777 and explain what's going on.
Toshiba will probably either issue you an RMA number and ask you to ship the laptop to them for service or refer you to your nearest authorized Toshiba repair center. You shouldn't have to pay anything for the repair since the machine is still under warranty.
In my opinion, it's always best to err on the side of caution when it comes to things like this. Even though the computer seems to be working fine, there's definitely something wrong that could possibly cause serious problems in the future.
Bottom line: The time to get this issue resolved is right now while your laptop is still under warranty.
Bonus tip: Want to make sure you never miss one of my tips? Click here to join my Rick's Tech Tips Facebook Group!
---
Do you have a tech question of your own for Rick? Click here and send it in!
If you found this post useful, would you mind helping me out by sharing it? Just click one of the handy social media sharing buttons below.