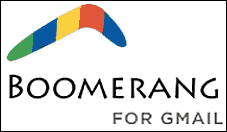 Wouldn't it be nice to be able to schedule your emails for delivery at a later time, right in the Gmail editor? Well, now you can thanks to a fantastic browser extension called Boomerang.
Scheduling Gmail messages for later delivery used to be a clumsy multi-step process, but after you install Boomerang all you have to do is change the date and time right on the edit message screen! The message will then be delivered at that date and time, instead of right away. 
Boomerang is available for Firefox, Google Chrome and Safari as well as Android devices. The free version only allows you to schedule up to 10 messages per month, but that's plenty for many users. After all, how often do you really need to schedule an email for delayed delivery? But if you need to schedule more than 10 messages per month, unlimited accounts start at less than $5 per month.
Click here to install Boomerang and give it a try!