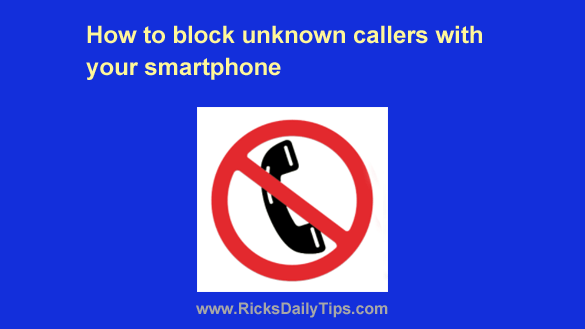 Do you receive a lot of calls from people who aren't on your Contacts list?
If so you've probably discovered that most of those "unknown callers" are telemarketers, scammers or other folks you'd simply rather not talk to.
The good news? It's possible to block calls from anyone who isn't on your Contacts list, and it's very easy to do (especially if you have an iPhone).
Yep, anonymous calls are the bane of the modern world, but you CAN get them under control!
Just follow the instructions below for your particular phone to block calls from unknown callers.
To block unknown callers with an iPhone if it's running iOS 13 or later:
1 – Tap Settings.
2 – Tap Phone.
3 – Scroll down and toggle the Silence Unknown Callers setting to On.
To block unknown callers with an iPhone if it's running iOS 12 or earlier:
1 – Tap Settings.
2 – Tap Do Not Disturb.
3 – Tap the slider switch beside the"Manual" setting to enable it.
4 – Tap Allow Calls From.
5 – Select All Contacts.
That's all there is to it. From now on your iPhone will only accept calls from people who are on your Contacts list.
How to block unknown callers with an Android phone:
Unfortunately, things are a little more complicated when it comes to blocking unknown callers with Android phones. Some phones don't have that capability at all, and the ones that do have it don't all do it the same way.
I recommend that you check your phone's user manual to see if it's capable of blocking unknown callers. If so, simply follow the steps listed in the manual to set it up.
If your particular Android phone doesn't happen to have a feature for blocking unknown callers, don't despair. You can still enjoy unknown caller blocking by installing a great free app called YouMail.
YouMail actually replaces your phone's built-in voicemail service and adds several nice features to boot. I won't go into all those features here, but one of them is a feature to block unknown callers.
Important caveat: Depending on your needs you might need to pay for the premium version of YouMail in order to get all the functionality you need out of its voicemail service.
Be sure to take that into account before making the decision to install the app.
Click here to read more about the YouMail app and all the great features it provides.
Bottom line: You don't have to put up with telemarketers and other annoying anonymous callers interrupting you at all times of the day and night. Just follow the simple instructions above and you'll be able to stop them cold!
Bonus Tip: If you still happen to have a landline telephone, read this post to learn about a nifty device that will allow you to block unwanted calls on it as well!


---