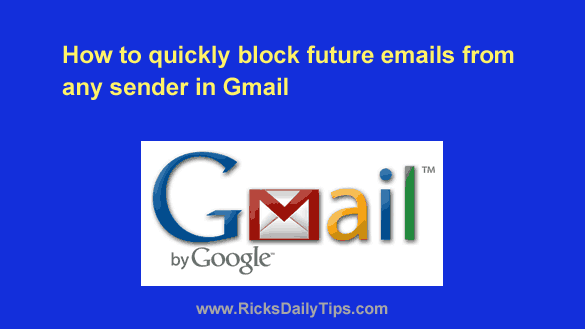 Gmail is one of the most popular email services out there thanks to all the cool and useful features it offers.
One of the handiest Gmail features of all is the ability to quickly and easily block anyone at all from sending you emails with just a couple of mouse clicks.
Thanks to this powerful feature, you don't have to create a complicated "Rule" to keep a person's emails from landing in your Inbox. You can simply block that person, and from that point forward any emails they send you will go directly into your SPAM folder!
Sound good? Then follow these simple steps to block future emails from any sender on Gmail: 
1 – Log into your Gmail account.
2 – Open any email from a sender that you would like to block.
3 – Click the three dots located at the right end of the "From" line, then select Block ["user"] from the drop-down menu. You'll receive a warning that blocking this user will send his/her future emails directly to your SPAM folder.
4 – Click the Block button to block this user.
5 – Repeat steps 2 through 4 for every person you wish to block.
Future emails from the people you have blocked will never again land in your Gmail Inbox.
There is one caveat to keep in mind however. While blocking emails from a regular person works like a charm, scammers and spammers will always be able to find ways to send you unwanted emails. That's just an unfortunate fact of life.
---
Never miss a tip!  Click here to sign up for my free Daily Tech Tips Email Newsletter!