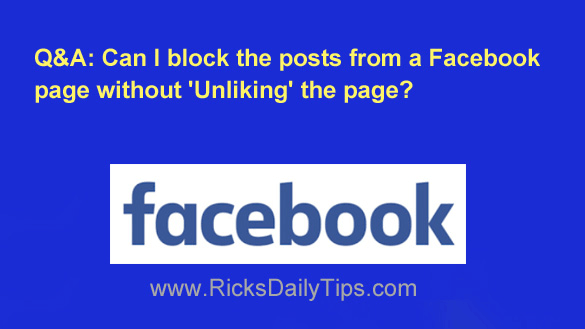 Question from Anita:  I have a very dear friend who recently put up a Facebook page for her business. She asked me to "Like" her page, and I did.
Now I receive at least a dozen posts from her page in my news feed every day, and to be honest I have no interest whatsoever in the things she is selling.
Is there any way to block the posts from her page without having to "Unlike" it? I care very much about this person and I really don't want to hurt her feelings if I can help it.
Rick's answer: Yes there is Anita, and it's very easy to do. Just follow the steps below for the device you're using with Facebook…
If you're using Facebook in a web browser on a laptop or desktop PC:
1 – Visit your friend's Facebook page.
2 – Click three dots on the right-hand side of the menu bar.
3 – Click Follow Settings.
4 – Select Off and then click Update.
If you're using the Facebook app on a mobile device:
1 – Visit your friend's Facebook page.
2 – Tap the three dots beside the "Send Message" button.
3 – Tap Manage Follow Settings.
4 – Tap the button on the right in the "News Feed" section.
5 – Tap Off.
That's all there is to it. From now on you won't receive any posts from your friend's Facebook page in your news feed even though you're still "Liking" the page.
By the way, just in case you're wondering whether your friend will be notified that you've unfollowed the page, she won't be.
From your friend's perspective it will appear that nothing has changed in your relationship to her page.
Note: If you ever change your mind and want to start receiving the posts from that page again, simply revisit the page and reverse the changes you made above.
And by the way, there's also an easy way to prevent the posts of a "problem" friend from showing up in your Newsfeed. This post explains how.
I hope this helps, Anita. Good luck!
---