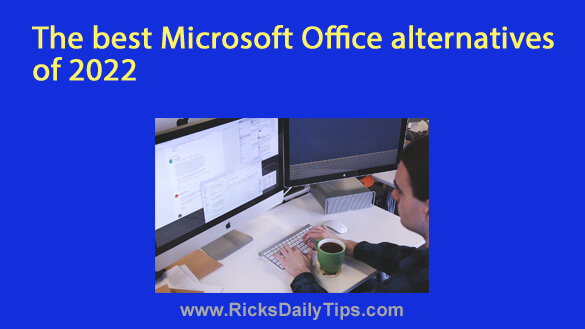 Microsoft Office, for years now, has been the best office software used in creating and editing documents, spreadsheet for calculation and arranging of data, and an established presentation used to view different slideshows during a presentation for people of diverse occupations: students, teachers, businessmen, and women.
Microsoft Office is used all over the world, but now, there are various alternatives to Microsoft Office. In this article, we'll talk about five of the best Microsoft Office alternatives and their features. 


WPS Office
WPS office stands for word-presentation-spreadsheet, a software established in 1988 by Chinese developers named Kingsoft. It was first created as just a word processor, but four years later, it became software for presentations and spreadsheets.
Currently, it is an all-in-one office suite and has a lot of features in them. It is the best alternative to Microsoft Office because it is also a licensed software, allowing end users the right to one or more copies of the documents without violating copyrights. Here are a few key facts:
WPS has a cloud storage of 1GB for their basic users and 20GB for their premium users. The editing in WPS is top-notch which places WPS among the top writing sites. Spelling errors are detected easily while using it, and thesaurus and synonyms are part of the editing procedures which can be used without an internet connection. Documents can be converted from Word to PDF and vice versa; Pictures to text and vice versa, making it suitable for this software to aid writing.
WPS Office can be seen as an MS Office alternative because it supports all gadgets–from iOS to HarmonyOS to Linux to macOS, even Android! It has good features on phones, including a scan QR that helps duplicate documents in the phone from the laptop.
Templates! When it comes to presentation packages, WPS got that covered. This particular feature is good in the educational sector because students are drawn to the visuals. With good templates, better slideshows are made which makes WPS a good alternative to Microsoft Word in education.
In WPS Office, the price for a basic user is free; but the price for a premium user is $39.99 for a year and $129.99 for a license subscription.
LibreOffice
LibreOffice is a software launched in January 2011 by Marco Borries, and since then, LibreOffice has been an alternative to Microsoft Office because they offer the same help.
LibreOffice compiles a Presentation app called Impress, a Spreadsheet editor known as Calc, Word-processor called Writer, and Database management called Base. Below are the incredible features found in LibreOffice:
It can be accessed on any macOS, Windows, or Linux. As an alternative to Microsoft Office, LibreOffice can be seen on any computer device and it is, fortunately, open-sourced which means it is free and publicly accessible which makes it a good alternative to Microsoft Office for students because they wouldn't have to pay anything.
Files are easily transported. As among the research paper writer services, LibreOffice has proven to be a good app for creating, editing, and exporting documents. It has a native file format called an OPD, an open standard format adopted by governments everywhere as a requirement in publishing and accepting documents. Files are easily transferred and converted legally, but files cannot be shared via phones because LibreOffice is not web-based, and the software doesn't have applications supported on smartphones.
As a good Microsoft office students' alternative, it uses less processing power than other software which includes Microsoft Office making it easier for smaller computers to handle.
It has good templates for Impress; the Calc is easy to use, which makes it a better alternative to MS Office in education.
Zoho Office
Zoho Office suite is an Indian web-based office suite that contains Word processing, spreadsheets, presentations, databases, web-conferencing, and business apps.
It launched in 2009, and since then, it has been on the list of MS office suite alternatives. Here are some features that make Zoho so unique and an alternative to Microsoft Office:
Zoho has a good storage file of 5GB which makes your work safe and reliable without worrying about losing it.
Exporting files. Files are easily converted from Word to PDFs.
Zoho has massive templates that enable powerful slideshows in business proposals and education.
Spreadsheets in Zoho have proved to be a resourceful alternative to MS Office in education because the spreadsheet is easy to use when compiling data.
It works seamlessly on all devices, therefore, making it portable. You can switch from computers to phones because their mobile apps are also powerful and good use for students and as an MS alternative for students. After all, it has a good interface.
Zoho costs $105 per user per month. Zoho has many positive features, but the more you demand them, the more they become limited.
Calligra
Calligra is an office all-in-one and a graphic art suite that was launched in May 2020 by KDE. The all-in-one package of spreadsheets, presentations, databases, word processors, and the like. It is a debatable alternative to Microsoft Office because of the following features:
Calligra is available on smartphones, tablets, Windows and Linux, and macOS. So, it is easier to send files from one export to another, depending on what is conducive for you. It also has a good interface which enables students or amateur users to use it efficiently.
Calligra has a good graphical interface and software that sums up presentation as a piece of cake. As an alternative to MS Office in education, Calligra possesses a good template for slideshows and you can always check out 10news.com for more exclusive writing content. Logos are created with the help of Calligra which competes in office suite productivity.
It also has an efficient database system that helps users to store and retrieve files efficiently.
Calligra suite pricing is free.
Google Workspace
Google has been a versatile software that has created over twenty software and Workspace seems to be part of it. Google Workspace was created by Google in February 2006 as a suite for Gmail domains but later launched into an App and software.
It was made to make the collaboration of files easy and effective and it has been the best Microsoft Office education. It has diverse features that have helped it amongst its competitors:
Easy accessibility with Google Workspace, you can work on your documents from anywhere. Having a good mobile app, you can easily transfer documents from your PC to your mobile phone depending on where you want to work.
It makes sure your work is safe and secured. Workspace provides its users with secure data and storage in the cloud that can preserve document even if it gets missing from your device.
Collaboration made easy. Files are being exported with little or no effort with Workspace, making it easy for business people to easily access files without having to go through a longer process.
Good templates in presentation make it better for users. It serves as a good student alternative to Microsoft Office.
It costs $3 per month for a business starter.
Conclusion
MS Office has been in use for years by various people and companies, but now, another office suite has been made to perform the same tasks as Microsoft Office. It all depends on the software the person can use efficiently and what seems right for the user.