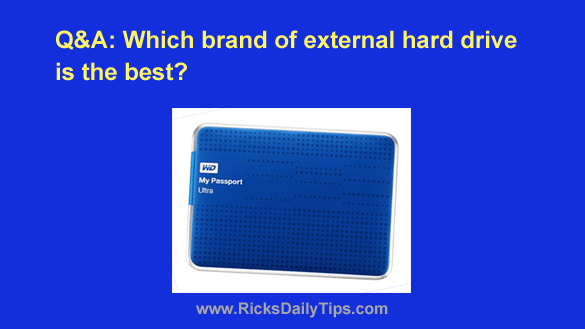 Note: The links in this post are affiliate links.
Question from Phyllis:  Hi there, Rick. I love your website and all of your handy tips.
I'm looking to buy an external USB hard drive so I can back up the hard drive in my laptop. I really want one that will last and maintain a good backup in case something happens to my laptop.
In your opinion, which brand of external hard drive is the best? There are so many to choose from that it's really pretty overwhelming.
Rick's answer:  Thanks so much for your kind words, Phyllis. I appreciate them very much.
To answer your question, all modern hard drives are actually pretty dependable. But since you asked for a specific recommendation, I'll be happy to give you one…
All things being equal (drive capacity, speed, cost, etc.), I personally prefer to purchase and use drives from a company called Western Digital (WD).
I've been using WD drives for decades, and I have always had great luck with them. They also seem to be quite rugged when used in laptops (which are often abused, dropped and sat on).
Just so you'll know, there is absolutely no difference between the hard drives that come mounted inside laptop computers and the ones that are contained within external USB drive cases. They are the exact same drives. The only difference is what the physical hard drives are mounted in.
Bottom line: You're likely to get years of great service out of most any external hard drive these days, especially if it's used strictly to store your backups. That being said, I really like and trust WD drives for my own use.
Click here to check out the great selection of Western Digital external USB hard drives at Amazon.
I hope this helps, Phyllis. Good luck!
---