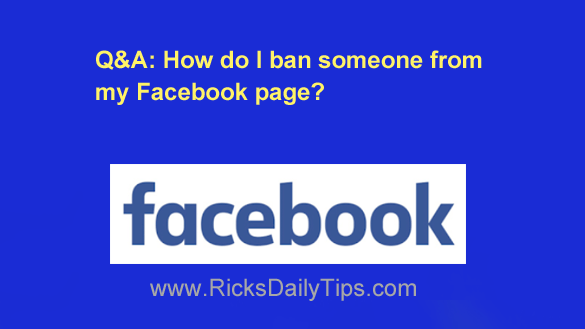 Click here to sign up for my free Rick's Tech Tips Newsletter!
---
Question from Caroline G.:  I have a Facebook page that I set up to promote a Christian-themed novel that I wrote.
A man "Liked" the page a few weeks ago and then he immediately started posting anti-Christian comments on my posts.
He leaves one of those awful comments at least two or three times a week. I keep removing them but he just posts more of them.
How do I go about banning him from the page? Is that even possible?
If I can I'd like to ban him ASAP before he has a chance to leave another nasty comment.
Rick's answer: I'm sorry this is happening to you Caroline, but you can easily ban this problem user from your Facebook page.
That won't prevent him from simply viewing the page, but he won't be able to post anything or interact with the page in any way.
With the above in mind, there are actually a couple of ways to ban a user from your Facebook page, but the easiest way by far is to ban them right from one their offensive posts.
Just follow the steps below for the type of device you're using to access Facebook.
If you use Facebook in a web browser on a laptop or desktop computer:
1 – Hover your mouse pointer over one of the offensive comments and then click the three dots that pop up over on the right.
2 – Click Hide Comment.
3 – Click the Ban [User Name] link.
If you use the Facebook app on a mobile device:
1 – Tap an hold your finger on the offensive post until a menu pops up, then remove your finger.
2 – Tap Delete comment and block [User Name].
That's all there is to it. Once banned, the problem user will no longer be able to interact with your page in any way except for simply viewing it.
However, there are a couple of caveats that I must mention…
1 – Even though the banned user will no longer be able to interact with your page, he'll still be able to view your posts and share them elsewhere on Facebook (i.e. on his own Timeline, in a group he's a member of, etc.).
However, he won't be able to post anything on your page itself to influence other users or disparage your novel.
2 – Since there's always a chance the banned user will "Like" the page again using another account, you might want to keep a close watch on the page for a few days to make sure he doesn't show up under a different name and start causing mischief all over again.
I hope this helps, Caroline. Good luck!
Update from Caroline:  Thank you so much Rick. He is now banned!
Bonus tip: This post explains how to enable Two-Factor Authentication on your Facebook account to prevent hackers from logging into it – even if they know your password!
---
Cick here to ask me a tech question.