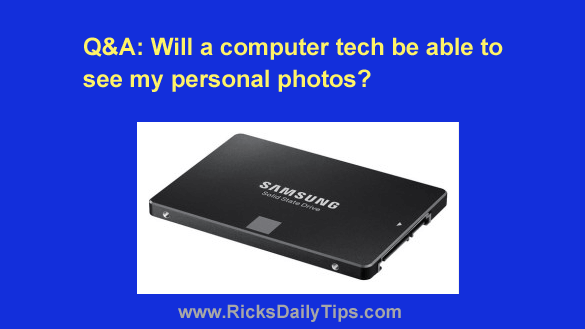 Note: The links in this post are affiliate links.
Question from Kristen:  The hard drive in my laptop has stopped working and I need to take it somewhere to have it fixed.
I've been taking your advice about creating regular System Image backups and I have a fairly recent backup they can use to restore everything once the bad hard drive is replaced.
What worries me is I have a lot of really personal photos that were backed up along with everything else. Will a tech be able to see them? 
I believe I could restore the files from the backup myself, but I don't know how to replace the hard drive (or even how to choose a drive that will work with my laptop).
I need to know if the computer guy will be able to see my personal files? I don't have a password on my computer.
Rick's answer: The short answer to your question is yes, Kristen.
After the tech replaces the bad hard drive and restores all of your files, everything on the drive will be wide open to him – including your "personal" photos.
The way I see it, you have two options:
1 – Have the computer shop replace the hard drive for you, then take the laptop home and restore the files from the backup yourself.
If you decide to go this route, make sure the tech returns your old hard drive to you because he/she could possibly retrieve your photos from the bad drive and take a gander at them.
2 – Replace the hard drive yourself and then restore your files. That way you can save some cash and not have to worry about someone else possibly seeing your sensitive photos.
It's really quite easy to replace the hard drive in any laptop that has removable cover over the drive bay.
You didn't mention the brand and model of your laptop so I can't tell you whether it has an easily accessible drive bay or not.
But you can find out by turning your laptop over and checking for a small removable cover (held in place with tiny screws) that's just a bit larger than a laptop hard drive.
If it does, I recommend that you watch the video in this post to see a general overview of the drive replacement process.
You can buy a replacement hard drive at your local electronics retailer. Alternatively, if you prefer to shop online you can get one from Amazon
.
Just be sure to buy a 2.5 inch laptop hard drive (or even better, an SSD) that's at least as large (in terms of storage capacity) as the drive that's in your laptop now and you'll be all set.
Important: If your laptop doesn't have an easily accessible drive bay the case will have to be disassembled in order to replace the bad hard drive.
If that's the case with yours I strongly recommend that you have the drive replacement done by a repair shop. You should then be able to restore your files onto the new drive yourself.
I hope this helps, Kristen. Good luck!
Bonus tip: As mentioned above, since you're going to be replacing the hard drive anyway, this is the perfect time to upgrade your laptop to a super-fast SSD!
---