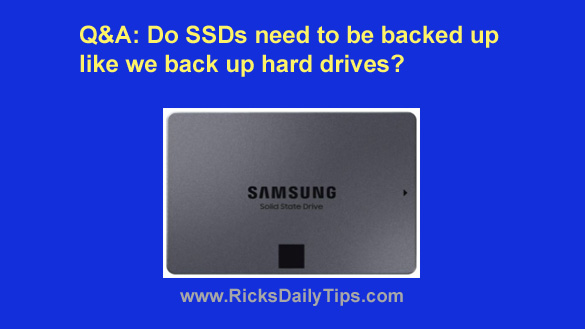 Note: The links in this post are affiliate links.
Question from Brenda K.:  I took my Acer laptop in to Best Buy after the hard drive crashed and they installed a 1TB SSD.
I can't believe how much faster the computer runs now!
Luckily I had a backup when the hard drive crashed. I was reading an article today that said SSDs don't break because they have no moving parts, therefore you don't really need to back them up.
Is that true? I'd love to be able to avoid making backups but I don't want to take any chances with my pictures and music either.
Rick's answer:  Brenda, you were very wise to upgrade your laptop by replacing the bad hard drive with a super-fast Solid State Drive (SSD)
instead of simply installing another hard drive.
As you've already discovered, adding an SSD is one of the best upgrades one can make to most any computer!
Now, to answer your question…
I don't know who wrote the article you're referring to, but the author is way off the mark.
While it's true that SSDs are more durable and can withstand drops and bangs better than spinning hard drives, they can and do fail. And unlike hard drives, when an SSD fails it is almost always without warning.
SSDs are basically just electronic circuit boards that are populated with electronic chips. As with any electronic device, one or more of those chips can fail at any time, rendering the SSD useless from that point forward.
Unless you're willing to pay out a small fortune for data recovery services (which isn't even successful in all cases), all the files stored on a dead SSD are typically lost forever.
The thing is, while the data can almost always be recovered from the platters of a dead hard drive, the same can't be said for retrieving the data from a dead SSD's flash memory chips.
Bottom line: You really do need to back up the files on your SSD just like you did with your hard drive.
After all, you've seen first-hand just how beneficial it can be to have a backup on hand. You certainly don't want to be caught in a similar situation without another recent backup ready and waiting to be restored.
The easiest way to back up your Acer laptop is by creating System Image backups onto an inexpensive external USB hard drive.
---
Never miss a tip!  Click here to sign up for my free Daily Tech Tips Email Newsletter!