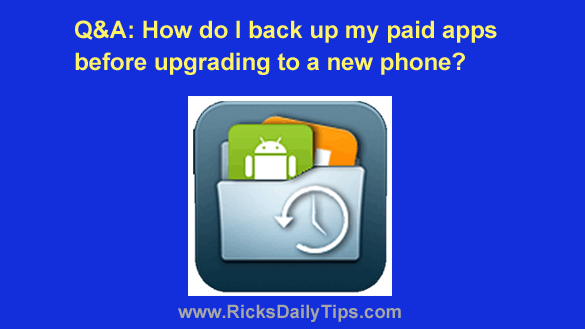 Question from Tabitha C:  I've had my current Android phone for years and I love it, but I finally decided it was time to upgrade to take advantage of newer technology.
I haven't decided on a new phone yet, but I know it'll definitely be an Android.
The problem is I have several paid apps that I don't want to lose when I switch phones.
How do I back up the apps from the old phone so that I can reinstall them on the new one?
By the way, I've been reading your blog for a long time and I know I can trust your answer. Thanks for taking the time to help so many of us solve our tech problems!
Rick's answer:  Thanks so much for your kind words Tabitha. I appreciate them very much!
In regards to your question, there are many excellent free apps available for backing up and restoring the apps on your Android phone, but the one that I use and recommend is called App Backup & Restore.
App Backup & Restore will back up all of your apps to the Micro SD card, which you can then use to "restore" the apps onto your new phone. Just search for "App Backup & Restore" in the Google Play Store and it'll come right up.
Note: Some recent reviews of this app are saying a recent update "sort of" broke it. My phones are all running the latest version of the app and it's working perfectly on all of them. Just sayin'.
Now all of the above being said, you can easily install your paid apps on your new phone directly from the Google Play Store without having to pay for them again.
Simply log in to the Play Store with the same Google account you use with your current phone, then download them from there.
Google will recognize that your apps have already been paid for and let you install them with no hassle at all.
I hope this helps, Tabitha. Good luck with your new phone!
Bonus tip: If your Android phone ever starts acting strange, booting the phone into Safe Mode can help you find out what's causing the problem.
---
Never miss a tip!  Click here to sign up for my free Daily Tech Tips Email Newsletter!