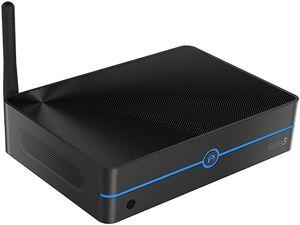 As technology advances,manufacturers keep on packing more and more power into ever-smaller packages.
Truth be told, even the cheapest mobile devices on the market today are several times more powerful than the original IBM PC was back when it was introduced.
In case you haven't noticed, this incredible "smaller but more powerful" dynamic is now beginning to reshape the desktop computer market as well.
Every generation of desktop computers shrinks the size/power ratio even more, and now we actually have smaller than brick-sized PCs that rival their much larger counterparts.
A perfect case-in-point is the tiny, yet surprisingly capable Azulle Byte 3 Fanless Mini PC. (#ad)
As this photo shows, I can literally hold the Byte 3 in the palm of my hand: 
Yet as small as this computer is, it still has the power of a full-sized entry-level desktop PC. Just check out these specs:
1.1 GHz Intel Celeron CPU
4 GB DDR3L SDRAM
32 GB SSD (you can add a second internal 2.5″SSD)
Intel® HD Graphics 500 (supports 4K video)
1 VGA Video Port
1 HDMI Video Port
802.11abg Dual Band Wi-Fi
1 Gigabit Wired Ethernet Port
Bluetooth 4.0
1 USB 3.1 Type C Port
2 USB 3.0 Ports
1 USB 2.0 Port
Windows 10 Pro
Weight: 1.1 pounds
As you can see, Azulle has managed to pack plenty of punch into a case that's actually smaller than many 3.5 inch external USB hard drives.
I've reviewed several of these mini-desktop computers in the past and I've always been impressed by their performance, but the Byte 3 takes that performance to an entirely new level.
When I removed this machine from the box, connected a monitor, keyboard and mouse and powered it up for the first time, I was immediately blown away by how much faster the Byte 3 boots up and responds compared to Azulle's previous mini-PCs.
Another thing I noticed right away about the Byte 3 is the noise – there isn't any! Since there's no spinning hard drive or fan inside, it's completely silent! Which brings me to a rather important point…
The lack of a fan does allow the top of the case to get quite warm to the touch. In fact, it actually borders on hot when the CPU is working harder than usual.
But don't worry because it's designed to be that way. Just remember not to place anything on top of the machine as it needs to "breathe" in order to passively dissipate the heat.
I tested the Byte 3 using both Wi-Fi and wired Ethernet connections and both were very fast. The websites I visited loaded very quickly and streaming video from Youtube and Netflix was just as smooth and stutter-free as they are on my full-sized desktop PC.
The 32 Gigs of built-in SSD storage is plenty if all you want to do is visit websites, get on Facebook and do other Internet-related tasks, but since I'll be storing lots of photos and installing several programs on mine I really need a little more space than that.
One of the selling points of the Byte 3 is the ability to add a supplemental internal 2.5 inch SSD, so I decided to shut the machine down and install install a Sandisk 120GB SSD that I had left over from a previous review.
As an experienced tech, I found the SSD installation to be very straight-forward, but an average user with little experience working around the innards of computers might have some difficulty with the installation because there are no instructions in the PC's user manual.
The Azulle website might have instructions for installing an SSD, but if they're on there I couldn't find them. Hopefully Azulle will put some instructions up on the website before long. In the meantime you can contact their Tech Support folks (or me for that matter) for assistance if you need it.
Anyway, after I finished installing the SSD I powered the Byte 3 back up and the drive worked perfectly. I was able to install dozens of programs and apps without a hitch.
As mentioned in the specs above, this tiny computer only weighs a little over one pound, but that's quite a bit more than the mini-PCs that I've used in the past. And believe it or not, that extra weight is actually a plus because it prevents the machine from sliding all over my desk like the lighter models tend to do.
All things considered, I really like the Byte 3 from Azulle. The previous versions hinted at full desktop PC power, but this one really delivers.
If you're planning on doing serious video editing, using Photoshop or doing any serious gaming, you'll definitely want to buy a machine that's better suited for those tasks.
But if you're looking for a fantastic desktop computer that won't take up more than a tiny corner of your desk, yet will do most anything you need to do in an office environment or on the Internet, this little jewel from Azulle deserves strong consideration.
Click here (#ad) to read more about the fantastic Azulle Byte 3 Fanless Mini PC with Windows 10 Pro at Amazon.
---
If you think your friends would like this post, I'd love you to share it! Thanks a bunch!