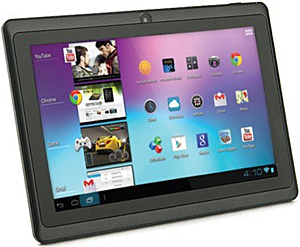 I had been on the lookout for an inexpensive Android tablet for a while when I learned about the Quantum Axis A23, a 7″, dual core, dual camera model with 512MB of DDR3 RAM.
To be honest, the low price tag concerned me a bit, but since I had heard good things about it I thought I'd give it a try.
The very first thing I noticed when I picked it up for the first time was how well built this tablet is. I expected a tablet that costs so little to feel cheep and fragile, but the feel of this Axis A23 is neither. The attractive molded plastic case firmly holds the screen in place with no bending or cracking sounds. 
I was a little disappointed that the set-up instructions said to let the battery charge for a whopping 24 hours before powering the tablet up for the first time, but I can tell you that the wait was worth it. I believe you'll be hard-pressed to find a more speedy and capable tablet anywhere for the same money.
The powerful combination of an x23 ARM Dual Core 1.5GHz CPU, 512MB of DDR3 RAM and a Mali400 High Performance 3D Gaming GPU ensure snappy performance and great video quality when watching Youtube videos.
Much to my surprise, the Axis A23's stock Android web browser turned out to deliver good performance as well. But as I always do when I get a new Android device, I downloaded the free Opera Mini browser which always puts my web browsing on steroids! And so it did here.
Everything you need to get started with this tablet is included in the box. You might want to add a microSD card (up to 32GB) to augment the 8GB of internal storage if you plan to store tons of apps, videos, photos and music on the device, but it's perfectly usable without it.
The only thing that really disappointed me somewhat about the Axis A23 was the quality of the cameras. Don't get me wrong, they're not terrible. In fact they are about as good as any camera you're likely to find in a $55 tablet. I guess I was just expecting something a little better given the excellent performance of all the rest of the tablet's hardware and features.
Bottom line: I really like this tablet, and I don't think you'll find a better one in its price range. I was very pleasantly surprised by the solid construction, the snappy performance and the responsiveness and clarity of the screen. If you're looking for a good, but inexpensive Android tablet, I strongly recommend giving the Axis A23 serious consideration.