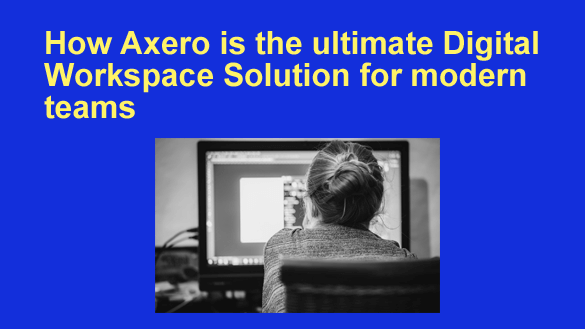 In today's fast-paced business world, teams need digital tools to stay productive and efficient.
With remote work becoming more common, it's essential to have a centralized digital workspace solution for modern teams. That's where Axero comes in.
Axero is the ultimate digital workspace solution that helps modern teams collaborate, communicate and get work done efficiently. It offers an intuitive design and easy-to-use interface that enables remote and distributed teams to collaborate on projects seamlessly.
Axero's digital workspace solution is an excellent tool for both remote and hybrid teams looking for a secure, user-friendly & inclusive way of working. Its ease-of-use interface encourages better participation and engagement among team members, promoting innovation and creative problem-solving skills regardless of location, thus improving company efficiencies in day-to-day operations across departments.
With Axero, companies can say goodbye to time-wasting tasks like navigating multiple applications. It offers an all-in-one platform that makes work smoother and more efficient by streamlining communication and collaboration processes.
Its user-friendliness makes it an excellent choice for both small and large organizations looking to improve their overall productivity while ensuring data security at every level. Clearly, for modern teams looking for a reliable digital workspace solution, Axero is the way to go!


Why choose Axero?
1 – Collaboration
One of the most significant advantages of using Axero is its ability to bring together team members from different locations into one virtual space. Project managers can create workspaces where team members can access the necessary documents, files, and real-time updates at any time.
Moreover, Axero also provides an all-in-one communication hub for companies seeking to streamline communication channels across their entire organization. The platform features a range of communication tools like chat, video conferencing, and audio calls which keep remote workers connected as if they were physically present in a traditional office setting.
The beauty of Axero lies not just in its functionality but also in its user-friendliness, which encourages participation across company departments. Its "drag-n-drop" design allows users to customize dashboards according to their preferences, enhancing staff members' productivity levels.
2 – Engagement
Another key feature that positions Axero as a leading Digital Workspace Solution is its social networking capabilities: users can interact with each other privately or publicly with posts or comments in news feeds akin to similar functionality on popular social media platforms like Facebook or Instagram. This allows for inclusivity regardless of geographical barriers making the workplace more interactive & dynamic than ever before!
3 – Integration
Axero integrates seamlessly with existing systems you might already be using, so there are no extra costs associated with transition costs proportional to having your custom-made system – Axero is scalable, giving room to customize features needed for your specific business benefits.
This platform also boasts enterprise-level security features ensuring top-notch data protection for sensitive data, making it ideal for businesses dealing with high-stakes information, especially when adhering to strict compliance regulations.
4 – Customization
The software provides more than 50 intranet site templates that are all customizable, ensuring a consistent brand experience. This ensures that companies can build an intranet site source with features like adding documents for viewing reports and dashboards, allowing employees access to critical information.
The built-in social network functionality enhances communication with the tax system, making it easy for everyone at your organization to be on the same page.
5 – Knowledge Management
In addition to its suite of features that include portal capabilities such as Content management systems(CMS), Document collaboration services(DCA), and eLearning/Learning Management Systems(LMS), among others, in addition to providing responsive support so organizations get the help they need whenever a technical issue arises.
Conclusion
Whether you run an SME or large corporation seeking seamless inter-department communication, Axero Digital Workspace Solution should be at the top of your list. Combining its versatility with enterprise-level security ensures data protection compliance regulations while integrations minimize transition costs making adoption easier because you can work with what you already have.
Overall it's cost-effective yet powerful enough to meet even complex needs within various organizations' spaces, maximizing team productivity every step along the way!
---