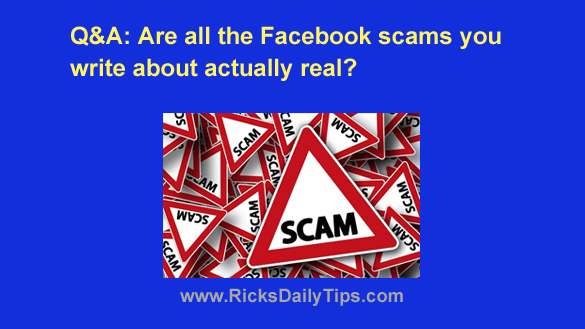 Question from Ellen:  I've been following your blog for a while now, Rick.
It seems like you write about a new Facebook scam or hoax at least once a week or so.
I always forward your 'scam alerts' to my sister to make sure she sees them, but the other night she asked me to stop. She said there can't really be that many scams on Facebook because they keep them cleaned up.
I got to thinking about it and it does seem like there are an awful lot of them. Are you sure they're all real? 
Rick's answer: That's a great question Ellen, and you aren't the first person that's asked it.
I agree that it seems like there are a LOT of scams and hoaxes making the rounds on Facebook. But that's because there really are.
In fact, the relatively few I write about in my Scam Alert posts are just a proverbial drop in the bucket!
Truth be told, Facebook really is awash with scams and hoaxes, and unfortunately it always will be.
Let's do a little math and you'll understand why…
According to Statista, Facebook currently has roughly 3 billion users worldwide.
While the vast majority of those users are honest and will never start a scam or hoax, a small percentage of them do. The problem is, on Facebook a small percentage adds up to a LOT of scammers!
I have no idea what actual percentage of Facebook's users are scammers, but let's just choose what's likely a very conservative number: 0.5%.
As it turns out, 0.5% of 3 billion equals 15 million. That means if only one-half of one percent of Facebook's users are scammers there are a whopping 15 million of them!
But human nature being what it is, the actual percentage is probably actually higher.
No one knows for sure how many scammers there are on Facebook but the number is very likely (at least) in the tens of millions.
That translates into a LOT of scams and hoaxes being perpetuated on all the honest Facebook users.
Facebook's algorithm does try to detect scams and hoaxes when possible and delete them. And their employees do act to remove them when they're reported.
The problem is the sheer volume of malicious posts ensures that it'll always be an uphill battle.
To be sure, every scam and hoax I write about via a "Scam Alert" is very real. I would never make one up for any reason.
My goal in writing my "Scam Alert" posts is to warn as many people as possible to the dangers of falling for them.
While most of the hoaxes I write about are more irritating than dangerous, they still make Facebook a less pleasant place to hang out.
In regards to the outright scams, real people can (and often do) lose real money and suffer real hardships after falling for them.
The military romance scams described in this New York Times report are some of the absolute worst!
If there's ever any doubt about whether a particular scam or hoax is real, all you have to do is verify it with a Google search.
I'm a huge believer in transparency and I never get upset when one of my readers feels the need to seek independent verification of the things I post.
While I've uncovered a few hoaxes and scams on my own, most of them are brought to my attention by news reports and/or posts on the various Internet Security websites that I monitor.
Luckily, the overwhelming majority of the scams and hoaxes that make the rounds on Facebook can be easily identified as such and avoided by simply thinking about what's being said.
The things listed below are dead-giveaways that something you see on Facebook is a hoax or scam:
1 – Facebook is NOT going to start charging their users a fee for using the site.
Yes, they do prompt you to pay to advertise and "boost" some posts, but those fees are entirely voluntary. And I suspect that they always will be.
The mind-boggling size of Facebook's massive user base is what allows them to earn billions of dollars in advertising fees every quarter.
If they started charging people just for using Facebook those valuable users would start leaving in droves, killing that incredibly golden goose virtually overnight.
2 – You cannot unilaterally change Facebook's Terms of Service (TOS) simply by posting something on your Timeline.
Facebook's rules are what they are. We all agreed to abide by their rules and policies when we opened our accounts and we're stuck with them until Facebook makes the decision to change them.
We will always have the option of deleting our accounts if we consider a rule or policy to be too onerous (and there are indeed some that are pretty onerous). But we will never have the option to unilaterally change a rule or policy on our own.
3 – Any post that includes some dire warning and instructs you to copy and paste it to your Timeline to avoid whatever ill is being claimed is a hoax. Every last one of them.
Likewise, any instant message that contains the phrase "forward to all of your contacts" is either a hoax or a scam. Every last one of them.
And now, I'll finish up with this…
I know it sometimes seems hopeless to keep warning others about the same scams and hoaxes that keep popping up on Facebook, but I keep doing it anyway. Here's why:
1 – Most people aren't on Facebook all the time, therefore they might miss seeing a particular scam alert when it's posted. Hopefully they'll see it the next time around.
2 – While it's a fact of life that some people will always keep falling for (and obliviously helping spread) the same hoaxes over and over again, plenty of others will take heed and stop.
And truth be told, getting just one person to stop can make a big difference because many things that happen on Facebook create a snowball effect.
Just one user forwarding a hoax or scam to his/her friends can start a chain of other forwards that results in thousands of others seeing that scam or hoax down the line.
That's why if a warning we share prompts even one person to stop spreading a hoax or prevents just one person from losing money to a scammer, then the effort was a success.
After all, that potential victim could easily be a beloved family members or a dear and treasured friend.
So there you have it, Ellen. I hope I've answered your question to your satisfaction.
I wish you the very best of luck. Stay safe out there in the wild, wild west of the Internet!
Bonus tip: This post explains why you should ALWAYS assume that everything you post on Facebook can be seen by anyone on the Internet.
---