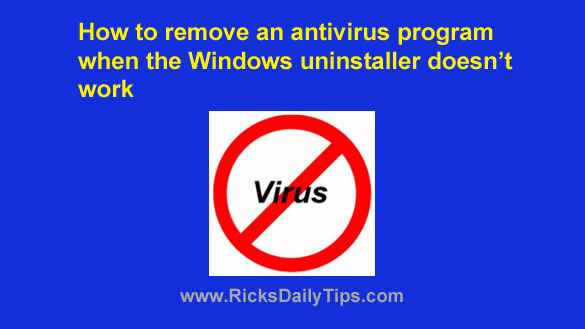 I receive hundreds of tech questions every week, and as you might expect some questions get asked over and over.
One of the questions that gets asked most often is some variation of "How do I remove [McAfee, Norton or whatever] from my computer?"
For various reasons, antivirus apps can sometimes be difficult to remove with Windows' native uninstaller, and I've had my own issues with many of them in the past.
Luckily, there's a simple way to remove most any antivirus program from your computer: Just download and run that company's automated removal tool! 
Most of the major antivirus vendors have tools for removing their products from your system, and they are typically very easy to use. Simply download the removal tool to your PC, and then run it!
Note: If there is no removal tool available for your particular antivirus program you can (carefully) follow the manual removal instructions provided to remove the software from your PC.
For your convenience, here are links to the major antivirus companies' removal tools (just choose the tool that matches your computer's currently installed antivirus software):
Bottom line: You don't have to live with unwanted antivirus software that refuses to be removed from your system.
The automated removal tools (or manual removal instructions) listed above can help you get rid of it once and for all.
Bonus tip: Did you know that you should occasionally seek a second opinion when your antivirus scan says your PC is malware-free? Well you should, and this post explains how.
---