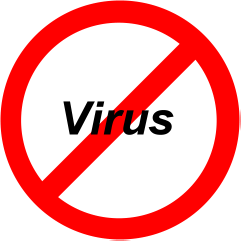 Question from Oliver P.: I need some advice for choosing an antivirus app for an older computer.
I have a Dell desktop PC with Windows 7 on it. This machine came with a pair of 2GB RAM sticks installed for a total of 4GB of RAM.
One of the RAM sticks went bad so I removed it.
I not going to replace the bad RAM stick because I'm planning to just use this computer as an Internet-only machine until Microsoft stops supporting Windows 7 next year.
By that time I hope to have saved enough money to buy a new computer.
This machine still runs just fine but I've noticed that runs quite a bit slower that it did with 4GB of RAM.
I removed several programs and that made it run a little faster. Then I removed Norton antivirus and it helped a lot.
I like the faster speed I get without Norton but I don't want to use the PC without some kind of antivirus software on it.
Can you recommend a good antivirus app that's free and really lightweight, but will still be effective at keeping viruses off my computer?
Rick's answer: Your plan sounds like a good one to me, Oliver. I think you're very wise to save your money towards the purchase of a new PC instead of replacing that bad RAM stick.
To answer your question, there are several really light (and therefore fast) antivirus products out there, but the one I recommend that you try first is Panda Free Antivirus.
Panda Free Antivirus is a cloud-based antivirus product that's extremely lightweight. I've used it on several under-powered Windows PCs with excellent results.
If for some reason you aren't pleased with the Panda solution I recommend you give Bitdefender Antivirus Free Edition a try.
Bitdefender's free antivirus app is a no-frills, slimmed down version of their full antivirus program.
Like Panda Antivirus Free, this awesome app from Bitdefender should do a good job at keeping your low-RAM PC malware-free.
Bonus tip #1: Since you're planning to use this PC only for Internet use, you actually have another fantastic option available to you: You can ditch Windows 7 right now and replace it with Linux!
This post explains why Linux is an excellent operating system for replacing a slow and outdated version of Windows, especially on older and under-powered hardware!
Bonus tip #2: Want to make sure you never miss one of my tips? Click here to join my Rick's Tech Tips Facebook Group!
---
Want to ask Rick a tech question? Click here and send it in!
If you found this post useful, would you mind helping me out by sharing it? Just click one of the handy social media sharing buttons below.