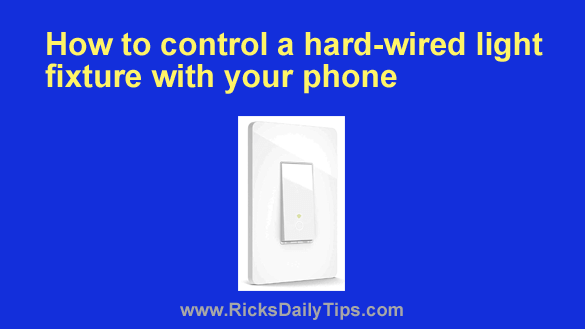 Note: The links in this post are affiliate links.
A while back I wrote a post explaining how to use a WeMo Mini Smart Plug to remotely control most anything you can plug into an electrical outlet.
I received a lot of feedback from that post, and several readers asked if there's a way to control a hard-wired light fixture with a smart phone as well. 
As luck would have it, there is. All you need to do is replace the standard wall-mounted light switch with a handy Kasa Smart Light Switch HS200.
While the WeMo Insight Switch lets you control whatever is plugged into an outlet, its Kasa counterpart lets you do the same thing for a hard-wired light fixture.
Of course installing a Wi-Fi light switch isn't quite as simple as plugging a WeMo Mini Smart Plug into an electrical outlet. After all, the light switches will have to be swapped out manually.
That means you might need to pay an electrician (or perhaps a handy neighbor) a few bucks to install the Kasa switch for you if you don't feel comfortable doing it yourself.
Once you have your wireless switch installed you'll be able to control the light(s) that are hard-wired to it using Kasa's free smartphone app.
As a side note, this Wi-Fi switch will do a lot more than just allow you to remotely turn a light on or off. It can also be programmed to control the light according to a schedule.
That's a great way to fool burglars into thinking you're at home without having to remember to turn the light on and off with your phone several times a day.
Pretty neat, huh?
Click here to read more about the Kasa Smart Light Switch HS200 on Amazon.