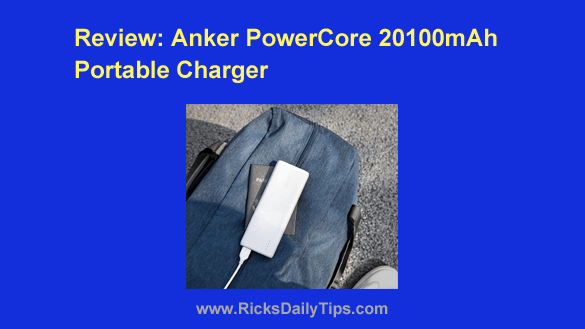 Note: The links in this post are affiliate links.
Modern technology and the abundance of mobile devices we have at our disposal are great, but keeping all of our gadgets charged up and ready for use when we need them can be a challenge.
But that challenge is a lot easier to meet with a powerful USB charger and external battery pack combo.
I'm always eager to test and review new portable charging devices, and I recently had the opportunity to put a true powerhouse to the test. 
What I discovered is that the Anker PowerCore 20100mAh Portable Charger is the perfect solution to keeping all of your mobile devices charged and ready to go.
Do you have an iPhone? The battery in this monster of a charger/battery pack is powerful enough to recharge your iPhone up to 8 times. And you'll likely be able to recharge your iPad Air or large Samsung device twice.
It also excels at charging multiple devices at once thanks to its 4.8 amp charging circuitry and dual USB charging ports.
Beginning with a full charge on this charger's external storage battery, this device completely recharged the depleted battery in a 7 inch Android tablet twice and still had a little charging capacity left over.
In my next test, it simultaneously charged two older battery-gobbling Samsung smartphones 3 times each before I had to plug in the charger to top off its external storage battery.
Four LEDs keep you constantly informed about the status of the external battery, including the amount of charging capacity remaining
Bottom line:  This is one of the most best portable USB chargers I have ever tested. I believe it's well worth the money.
Click here to read more about the Anker PowerCore 20100mAh Portable Charger at Amazon, including hundreds of overwhelmingly positive user reviews.
---