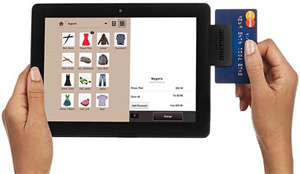 Accepting credit and debit cards is essential for most small businesses today, but purchasing a card swipe terminal and paying the sky-high processing fees are tough hurdles for many of them to get over.
But now a new service called Amazon Local Register makes it cheap and easy to accept card payments using an iPhone, iPad, Kindle Fire or one of a number of select Android devices!
What's more, the tiny secure card reader that Amazon will send you costs just $10 and you'll even get that right back in the form of fee credits! The only other fee you'll pay is a small "Swipe Fee" every time you swipe a customer's credit or debit card. 
If you sign up before October 31, 2014, your swipe fee will be a low 1.75% per swipe until January 1, 2016. If you sign up after October 31 you'll be charged the standard rate of 2.5% per swipe (which is still a bargain). This is much lower than any of the competition's swipe fees, including PayPal's.
As far as I can tell from reading the details page at Amazon, there are literally no credit or other eligibility requirements for using the Amazon Local Register service. Just open a free Amazon Payments Account, then buy the $10 card reader and download the free app to instantly begin accepting credit/debit card payments! What could be easier than that?
Here is a list of the devices you can use to accept credit cards via the Local Register card reader:
Kindle Fire HD and HDX
Apple iPad
Apple iPad Min
Apple iPhone 5s
Apple iPhone 5
Apple iPhone 5c
Apple iPhone 4s
Apple iPhone 4
Samsung Galaxy S3
Samsung Galaxy S4
Samsung Galaxy S5
Samsung Tablets
Note: Amazon says the card reader might very well work other Android devices, but it has only been tested with the devices listed above.
Getting access to the money received from your credit card transactions is fast and easy. It's automatically transferred to your bank account the following day! Or if you prefer, you can use the money you receive to make purchases on Amazon within minutes after swiping the customer's card!
Sounds pretty good, huh? Why not give it a try? It'll only cost you a mere $10 to get started, and you'll get that back as soon as you start using the service in the form of swipe fee credits!