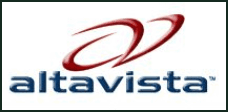 Those of you who have been using the Internet since its "Stone Age" days probably remember using a search engine called Alta Vista at some point during your online life. Back in the day, if you wanted to find something on the web, you more or less had two viable options: Yahoo or Alta Vista.
While Yahoo pretty much started the "indexing the web" business, Alta Vista soon became a formidable alternative (and my personal favorite) way of searching for whatever folks needed to find. But then along came the juggernaut that is Google, and the rest is history. And as of July 8, Alta Vista itself will be history. 
Over the years Yahoo bought up countless competitors and either incorporated their services and/or methods into the Yahoo empire or simply shut them down in order to get them out their way. One of the companies they bought was Alta Vista. They hoped that Alta Vista would give them another angle from which to attack and compete with Google in the world of "web search", but we all know how that effort turned out.
Apparently the time has come for Yahoo to give up on Alta Vista, and I know it's silly but for me it's a sad occasion. Although I haven't searched for anything on Alta Vista in years, it still feels like a part of my personal history is about to be erased forever in the same way that it feels when a school you attended as a child is shut down and replaced by a new one.
There is no room for sentiment in the world of big business, only profits at the expense of all else. I can certainly understand Yahoo's decision to shut down Alta Vista if it was causing their shareholders to lose money. In fact, they have a fiduciary responsibility to do so. But it still seems to me like the online world is about to lose a beloved and well respected "grandparent".