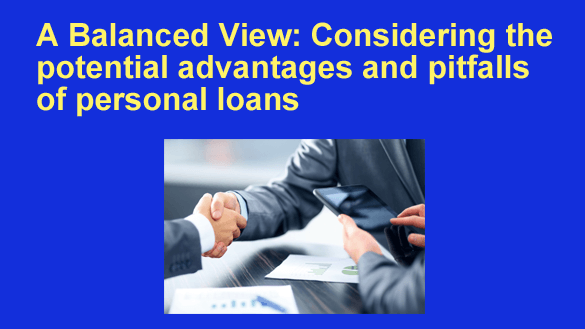 When it comes to managing your financial needs, personal loans can be a helpful tool to consider. These loans provide access to funds that can be used for various purposes, from consolidating debts to financing major purchases.
However, it's important to weigh the potential advantages and disadvantages of a personal loan before making a decision. This post will explore both sides of the coin, giving you a balanced view of personal loans. 


Introduction: Understanding Personal Loans
Personal loans are a form of unsecured borrowing that allows individuals to obtain a specific amount of money from a lender.
Unlike loans secured by collateral, such as a car or a house, personal loans are not tied to any specific asset. The flexibility and ease of access make them popular for many borrowers. However, it's essential to understand the potential disadvantages before committing to a personal loan.


The Advantages: Harnessing the Benefits
Personal loans offer several advantages that make them an attractive option for borrowers. Here explore some of the potential benefits:
1 – Versatile use of funds
One of the key advantages of personal loans is the versatility of how the funds can be used. Whether you need to cover medical expenses, finance a home improvement project, or pay for a wedding, personal loans allow you to allocate the funds according to your needs.
2 – No collateral required
Unlike secured loans, personal loans do not require collateral. This means you won't have to put any of your assets, such as your home or car, at risk. This aspect provides peace of mind and makes personal loans accessible to more borrowers.
3 – Quick approval and disbursement
In many cases, personal loans offer a quick approval process, allowing you to access the funds you need in a timely manner. Online lenders, in particular, have streamlined their application processes, making applying and receiving funds quickly convenient.
The Pitfalls: Understanding the Drawbacks
While personal loans have their advantages, it's crucial to consider their potential pitfalls. Here are some points to keep in mind:
1 – Higher interest rates
Compared to secured loans, personal loans often come with higher interest rates. This is due to the absence of collateral, which increases the lender's risk. It's important to carefully evaluate the interest rates and calculate the overall cost of borrowing to ensure it fits within your budget.
2 – Potential debt accumulation
Taking on additional debt through a personal loan can increase your overall debt burden. It's essential to assess your financial situation and determine whether you can comfortably manage the monthly repayments alongside your existing financial obligations. Failure to repay timely can lead to further financial strain and negatively impact your credit score.
3 – Temptation to overspend
The accessibility of personal loans can tempt some borrowers to borrow more than they actually need. It's important to borrow responsibly and avoid falling into the trap of unnecessary debt. Assess your true financial needs and borrow only what is necessary to achieve your goals.
As Lantern by SoFi says, "Lantern by SoFi can present key data to help guide you in applying for a personal loan with the lender of your choice." This quote emphasizes the importance of a balanced approach to personal loans.
Evaluate your financial situation, needs, and repayment capabilities. Consider the interest rates, fees, and terms offered by various lenders. By taking a balanced approach and making an informed decision, you can harness the benefits of personal loans while minimizing the risks. Remember, responsible borrowing is key to maintaining a healthy financial outlook.
---