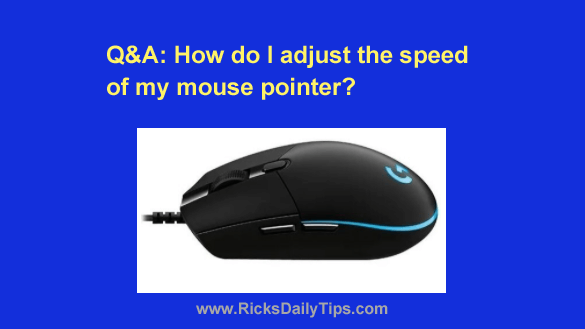 Question from Rhonda:  It seems the mouse speed on my Windows computer needs to be adjusted.
It seems like it's too slow or something.
I seem to remember long ago someone telling me this could be done. Is this possible?
Rick's answer:  It sure is, Rhonda. And like you, I don't really carry a slothful mouse!
Simply follow the steps listed below to change the speed of the mouse pointer in Windows:
1 – Press the Windows+S key combination to open a "Search" box.
2 – Type mouse speed into the Search box, then click Change the mouse pointer display or speed. The 'Mouse Properties' dialog box will open.
3 – Select the Pointer Options tab.
4 – Select a new pointer speed by moving the slider.
5 – Click Apply, then click OK.
That's all there is to adjusting the speed of your mouse pointer. Pretty easy, right?
By the way, the pointer speed is just one of several mouse settings you can adjust to make your mouse behave exactly the way you want it to.
You might want to do a bit of experimenting while you have the 'Mouse Properties' box open.
I hope this helps. Good luck, Rhonda!
Bonus tip: This post discusses four really handy mouse tricks you might not be aware of.
---