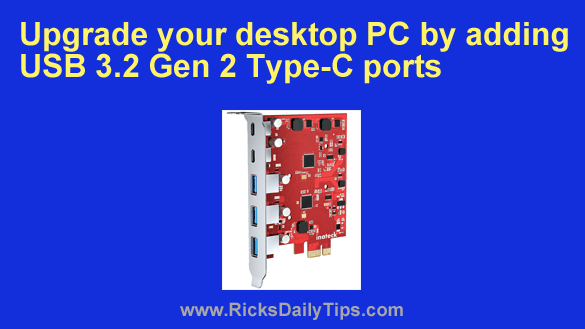 Note: The links in this post are affiliate links.
A while back I wrote a post that explains how to add super-fast USB 3.0 ports to an older PC, and that post seemed to resonate with lots of folks.
Well, a lot has changed since then…
Now you can add five much faster USB 3.2 Gen 2 ports to your desktop computer for about what you'd pay for a really good pizza.
Upgrading your computer to USB 3.2 Gen 2 Type-C is easy.
Whether you have a Windows desktop PC or a Mac desktop, the procedure is basically the same as long as your machine has an open PCIe expansion slot. And it's easy…
Simply purchase this 5 Port SB 3.2 Gen 2 adapter card and install it into the empty slot.
If you have a Mac running a recent version of macOS you won't even have to install a driver for the adapter card.
Windows users will be able to download the latest driver directly from the manufacturer's website.
Just to clarify, this card will not work in a laptop. However, it will work with any desktop computer that has a compatible (and currently unused) PCIe expansion slot.
Bottom line
If you thought your external USB hard drive or other device was fast, you'll be completely blown away when you first plug a USB 3.2 Gen 2 device into this expansion card!
---