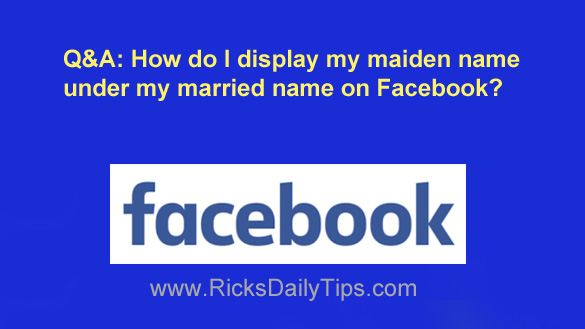 Question from Peggy:  I know my question will probably make me sound dumb but I have to ask it anyway.
Several old friends from my school days had trouble finding me on Facebook because they were searching for my maiden name.
How do I add my maiden name to my Facebook profile but have it separate from my married name? In other words display my married name like it is now with my maiden name underneath it?
I know this can be done because I see it like that on other people's profiles, but I can't figure out how to get it onto mine. (I know, I'm a dummy when it comes to this techie stuff.)
Rick's answer:  That question doesn't make you sound dumb at all, Peggy. Lots of other folks have asked me the very same thing.
I'll be glad to help you get your maiden name on your profile page. Luckily, it's  actually very easy to accomplish. Just follow the steps below:
Note: You will need to do this while using Facebook in a desktop browser since it appears that Facebook has removed the ability to do it via the mobile app.
1 – Log into your Facebook account.
2 – Visit your Timeline page.
3 – Click the About link that's located on the menu bar just below your cover photo.
4 – Click the Details About You link over in the left-hand column.
5 – Click Add a nickname, a birth name…
6 – Click the word Nickname in the box, then select Maiden Name from the drop-down menu.
7 – Type your maiden name into the text box, then check the little box beside Show at top of profile.
8 – Click Save.
That's all there is to it. From now on your old friends should be able to find you on Facebook by searching for your maiden name.
I hope this helps, Peggy. Good luck!
Bonus tip: This post explains why there's no such thing a privacy on Facebook.
---