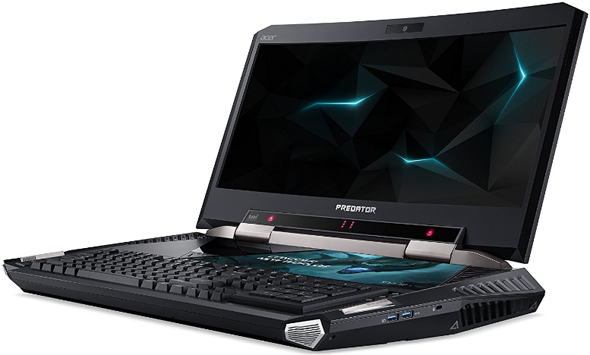 Serious "gamers" are always thirsting for the latest, greatest and fastest gaming PC money can buy. Well, I just found it.
Acer has released the fastest, most powerful and (possibly) the largest gaming laptop ever built.
Simply put, the Acer Predator 21 X Gaming Laptop is almost beyond belief.
This thing packs a punch that would knock out all but the most powerful desktop gaming computers, and the price tag reflects it: roughly 9 grand at the time of this writing!
But check out everything you'll get for that 9 grand: 
21″ 2000R Curved Full HD (2560 x 1080) widescreen IPS display

NVIDIA GeForce GTX 1080 SLi with 16GB of dedicated GDDR5X VRAM
2 Display Ports supporting NVIDIA G-SYNC
1 HDMI 2.0 Port with HDCP support
7th Generation Intel Core i7-7820HK Processor (Up to 3.9GHz)
64GB DDR4 RAM
1TB PCIe Solid State Drive (SSD)
1TB 7200RPM SATA Hybrid Hard Drive
Predator True Harmony Premium High-Performance Sound System
Six Built-in Stereo Speakers (2 woofers, 2 tweeters, and 2 mid-range speakers)
Cherry MX RGB mechanical keyboard
SD Card Reader
Killer Double Shot Pro Wireless-AC 1535 802.11ac Wi-Fi
Killer Ethernet E2500 10/100/1000 Gigabit Ethernet LAN
HD Webcam (1280 x 720)
1 Thunderbolt 3 (Full USB 3.1 Type C) Port
4 USB 3.0 Ports (One featuring Power-off Charging)
2 USB 2.0 Ports
Bluetooth 4.1
8-cell Li-ion (6000 mAh) Battery
5 Cooling Fans
Windows 10
Predator 21 X transport case
2 Year Limited Warranty
Is that impressive or what? But then for 9 grand, it should be!
Here's a larger photo of the laptop and transport case:
One thing's for sure: If you buy this thing you'll definitely have the fastest gaming laptop on the block. (And you'll also be the only person you know who owns a laptop with a curved screen!)
All of the above being said, there are a couple of not-so-great things I should mention:
1 – At just a shade under 19 pounds you probably won't want to be lugging this thing around with you all that much. Thank goodness the awesome Predator 21 X Transport Case that comes with it has wheels so you can pull it like a suitcase!
2 – The 3 hour average battery life is considerably less than what you can expect from most other laptops. But then if you're a hard-core gamer I doubt if this is much of a concern for you. You'll probably just plug it into a wall outlet and go at it.
Bottom line: If you absolutely, positively must have the fastest, most powerful gaming laptop money can buy, this is it (at least until something even more mind-blowing comes along). Just be prepared to pay about half what you'd pay for a new car.
---
If you think your friends would like this post, I'd love you to share it! Thanks a bunch!