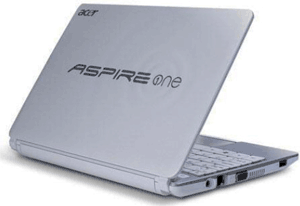 Question from Luella F.:  The screen on my Acer Aspire One D270 netbook stays blank like it's not getting any power when I turn the machine on. Everything else seems to be working ok because the power light comes on and I can hear the fan running.
Do you think it needs a new screen? If it does, would it cost a lot to get it fixed? I don't want to put much into it at this point.
Rick's answer:  Hi Luella. Ordinarily I'd suspect either the screen itself or the cable that connects it to the motherboard (and one of those could indeed be bad), but in this case I'm guessing your netbook has a different problem.
The Aspire One D270 has just a single RAM slot, and that slot has a tendency to not make a good connection to the RAM module. This issue occurs fairly often in this particular netbook. I think you should try removing the RAM module and then re-installing it to see if that fixes the problem.
Fair warning: Getting to the RAM slot in your netbook won't be easy. You basically have to disassemble half of the machine to get to it. Ordinarily I'd recommend taking it to a computer shop and asking them to re-seat the RAM stick for you, but I don't recommend it in this case.
Why? Because the problem might indeed be a bad screen, and if that turns out to be the case it would cost more to replace it than the netbook is worth in my humble opinion. Therefore, I recommend either trying to re-seat the RAM yourself or paying a tech-savvy teenager a few bucks to do it for you.
The procedure for re-seating the RAM in the Aspire One D270 is too complicated for me to explain here, but I did a quick search on Youtube and found a great video that shows exactly how to do it. The video actually shows how to upgrade the RAM module, but the concept and procedure are exactly the same.
Just watch the video 3 or 4 times to familiarize yourself with the procedure, then have at it! Good luck!
Update from Luella:  Rick, you're a lifesaver! My brother-in-law watched the video and re-seated the RAM chip for me and now it's working fine. Thanks so much for your help!!
---
Do you have a tech question of your own for Rick? Click here and send it in!