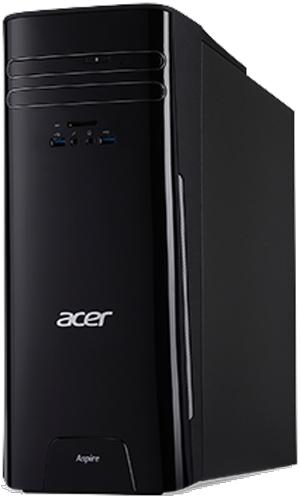 Like my tips?  Click here to sign up for my free Daily Tech Tips Newsletter and you'll never miss one!
---
Note: The links in this post are affiliate links.
These days most people seem to prefer laptops over desktop computers, and for good reason. Laptops are portable and they can easily be taken along when traveling.
That being said, some people (myself included) still prefer using a desktop machine while we're at home or working in the office.
There are several outstanding mid-range desktops on the market right now, one of which is the sleek and powerful Acer Aspire TC.
I've used and tested a lot of desktop computers in my day, and I can honestly say this is one of my  favorites. It offers plenty of power for the money, and it's a joy to use.
First, let's take a look at the specs: 
7th Generation Intel Core i5-7400 Processor
8GB DDR4 2133MHz RAM
2TB 7200RPM SATA3 Hard Drive
DVD-RW Drive
Intel HD Graphics 630
High-Definition Audio
Digital Media Card Reader
802.11ac WiFi
Bluetooth
10/100/1000 Gigabit Ethernet LAN Port
3 – USB 3.0 Ports
4 – USB 2.0 Ports
USB Keyboard and Optical Mouse
Windows 10 Home
As you can see, this machine is loaded with powerful hardware and it comes with plenty of connectivity options.
The Intel Core i5 CPU, 8GB of RAM and the speedy 2TB 7200 RPM hard drive are an excellent combination for tasks ranging from general Internet and office use to moderate gaming.
One thing I really like about this PC is how Acer put two high-speed USB 3.0 ports right on the front of the case. That makes it really easy and convenient to plug in an external USB 3.0 hard drive or thumb drive without having to struggle with the connections on the back of the case.
Most desktop machines put the USB 3.0 ports on the back and much slower USB 2.0 ports on the front, and I have never liked that setup.
I was really impressed with how quickly this computer powers up and boots to the Windows desktop. The response had me thinking that perhaps Acer had accidentally installed an SSD instead of a hard drive, but of course that wasn't the case.
The CPU and RAM in the Aspire TC perform quite well when running large, resource intensive programs. For example, I use Adobe Photoshop Elements every single day, and it virtually flies on this machine!
If you're looking for a workstation/gaming combo machine, this one sits the bill. But if you happen to be a serious gamer you'll probably want to max out the RAM at 32GB.
Bottom line: I was expecting great performance from this computer given its Core i5 CPU and 7200 RPM hard drive, but I was surprised by how responsive it actually is.
In my opinion, this machine offers great value for the money and I believe it will meet the needs of everyone except for hard-core gamers who desire the fastest hardware available at any given time.
Click here to check out the Acer Aspire TC desktop computer at Amazon.
---
Cick here to ask me a tech question.