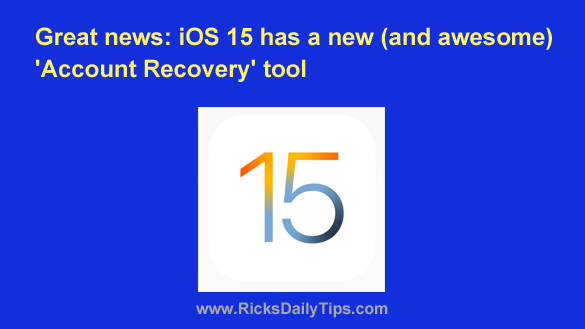 Like my tips?  Click here to sign up for my free Daily Tech Tips Newsletter and you'll never miss one!
---
I frequently receive frantic messages from folks who have managed to get locked out of their own Apple devices because they've forgotten their Apple ID password.
I usually reply to those requests for help by sending them the link to Apple's Reset Password page.
If the stars are aligned just right and the closest creek hasn't overflowed its banks most password reset attempts end in success.
However, in far too many cases the forgotten password simply cannot be reset using the tools Apple provides on that page.
For example, if the user isn't currently signed into iCloud on any available device or their Apple ID is protected with Two-Factor Authentication (which I strongly recommend), they are pretty much out of luck.
Well, here's a bit of great news…
Apple is planning to release iOS 15 to the masses this fall, and when it arrives it's going to have a new "Account Recovery" feature that will make resetting a forgotten Apple ID password a piece of cake for the vast majority of Apple users.
Note: If you're the adventurous type you can install the beta version of iOS 15 on your device right now. This page on the Apple website has all the details.
Just be aware that beta software is often buggy and serious issues could arise with your device at any minute. Just sayin'.
In a nutshell, the new "Account Recovery" feature in iOS 15 works like this:
First, you go into your device's settings and designate several people you know well and trust completely as your "Recovery Contacts".
Once you have your Recovery Contacts in place, if you ever forget your Apple ID and get locked out of your account you'll be able to call one of your Recovery Contacts and ask them to give you a special code that Apple will supply to them.
Enter that code on your Apple device and you'll immediately be prompted to choose a new password.
Sounds easy, right? Well, it is!
Anyone who has ever struggled to reset a forgotten Apple ID password (and possibly failed) will be able to fully appreciate this new "Account Recovery" feature.
Once you've upgraded your device(s) to iOS 15 you'll be able to follow these steps to designate your Recovery Contacts:
1 – Make sure every Mac computer you own has been updated to the latest version of macOS and all of your Apple iOS devices are running iOS 15.
2 – Open the Settings app on your iOS device.
3 – Tap on your name at the top of the screen.
4 – Tap Password & Security.
5 – Tap Account Recovery.
6 – Tap Add Recovery Contact.
7 – Tap the Add Recovery Contact link at the bottom of the screen.
8 – Enter your Apple ID password and then follow the prompts as they appear to select your Recovery Contacts.
That's it, you're all set!
Now that we have that out of the way, here are a couple of caveats to keep in mind:
1 – If you ever have a "falling out" with one of your designated Recovery Contacts you'll need to go back into the settings and remove that person from your list of Recovery Contacts.
Why? Because they would be in a position to help a thief easily reset your Apple ID password if your phone is ever stolen by a friend or acquaintance of the estranged Recovery Contact.
2 – Although it's fairly unlikely, there's always a chance that none of your Recovery Contacts will be available to take your call if and when you ever need their help with resetting your Apple ID password.
Bottom line: Apple's tools for resetting a forgotten Apple ID password have long been inadequate for a large percentage of Apple users. This new "Account Recovery" feature should be a big help to an awful lot of people.
---
Cick here to ask me a tech question.