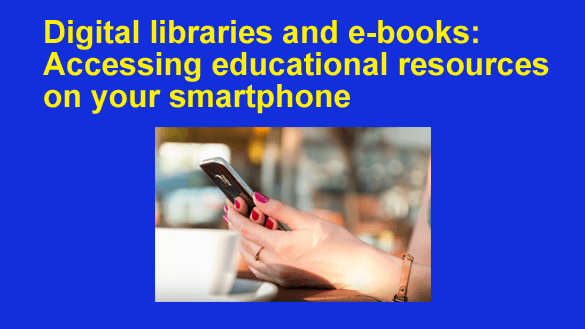 If you're like most students these days, your phone is practically an extension of your arm. And now, that same reliable device can be a tool for learning and studying with educational resources available right on the app store.
No more lugging heavy textbooks around or digging through course sites to find what you need; access it all from the comfort of your fingertips! 


What is the scope of digital libraries?
Digital libraries are like a magical portal to endless information and entertainment. With the rise of technology, traditional libraries have entered the digital age and are now accessible to anyone with an internet connection. Here are just a few of the many benefits of online libraries:
1 – Convenience. With digital libraries, you can access books, audiobooks, and other resources anytime, anywhere. No need to worry about library hours or late fees!
2 – Eco-friendly. Digital libraries help save trees by reducing the need for paper books. Plus, no gas wasted on trips to the library, which is great for both the environment and your wallet.
3 – Free access. Many online libraries offer free access to their resources, which is great news for those on a budget. Take Project Gutenberg, for example, which offers over 60,000 free eBooks.
4 – Preservation. These libraries help preserve the past by making historical documents and materials more easily accessible. The British Library's Digital Collections offer access to everything from medieval manuscripts to 19th-century novels.
5 – Perspective. Another remarkable advantage of digital libraries is their ability to provide a wide range of e-books on diverse topics. For instance, you can easily find books like "The Hate U Give" by Angie Thomas, which explores important societal issues. Digital libraries empower readers to engage with literature that expands their perspectives and enhances their understanding of the world.
Did you know that by using digital libraries on your smartphone, you can find even more essays and critical analyses related to this book? And best of all, many of these resources are completely free! With search functionalities at your fingertips, you can find more essays about "The hate u give" for free online. You could then easily explore a wider range of perspectives and delve deeper into the themes and messages of the book.
So why limit your learning experience to just the pages of the novel? By accessing the vast resources available in digital libraries, you can check out essay samples on "The Hate U Give" and related topics, further enriching your understanding of this important work.


Apps that will give you access to educational content
From language learning to science exploration, there are apps out there that cater to every subject. Trying to master a new language? Duolingo should be your go-to.
Want to learn more about the earth and its creatures? Meet the National Geographic app.
Math enthusiasts can rely on Khan Academy to sharpen their skills.
And if you're looking to expand your knowledge about the world, TED Talks is always a solid choice.
The best part? These apps are completely free – so there's no excuse not to broaden your horizons.
Your inner knowledge seeker will thank you.


How to use each app effectively and efficiently
First things first, prioritize the apps that align with your preferred learning style. Are you more of a visual learner? Look for apps with interactive, multimedia content. Do you learn best by doing? Seek out apps with interactive activities and quizzes.
Next, set specific goals for each app session to keep yourself on track and motivated. And don't forget to take breaks! It's important to give your brain a rest and recharge before diving back into the learning world. Try these handy tips and let us know the results!


Utilize various features
Are you tired of scrolling endlessly through your digital library trying to find just the right book or document? Well, fear not my friend! With the power of search tabs, sorting options, and filtering capabilities, finding what you need has never been easier. No more wasting precious time sifting through pages upon pages of irrelevant content. Just a few clicks and you're on your way to digital nirvana.
So, sit back, relax, and let technology do the heavy lifting. Your digital library just got a whole lot smarter, thanks to your clever utilization of these handy features.


Take advantage of free trials or subscriptions
If you're looking to explore different types of content but don't want to commit to a full investment right away, free trials and subscriptions are a great way to do so.
Fortunately, the internet has plenty of options when it comes to digital libraries that offer free content for a limited time. For example, the well-known site Scribd offers a 30-day free trial, which includes access to books, audio books, magazines, and more.
The app Library is another great resource for free digital content, mainly e-books and audiobooks, that you can borrow from your local library.


Keep track of your progress and save material for future reference
With so much information at your fingertips, it can be overwhelming to keep track of everything you've read. Luckily, there are tools like bookmarking, favorites lists, and notes available to help you stay organized and remember key information.
By taking advantage of these features, you can easily save material for future reference and keep track of your progress as you delve into the world of digital literature. So, don't be afraid to explore all that digital libraries have to offer and use these valuable tools to make the most of your reading experience.


Tips and tricks for efficiently accessing educational content on your smartphone
This is how you can make the most out of your mobile learning experience:
Organize your apps and content in folders based on subject or purpose. This will help you quickly find what you need and eliminate clutter.
Take advantage of mobile versions of popular educational platforms, such as Khan Academy or Coursera. These platforms offer easily accessible and diverse information on various subjects.
Consider bookmarking relevant websites or articles for easy reference later on.
With these tips, you'll be able to efficiently access educational content on your smartphone and achieve your learning goals, no matter where you are.


---