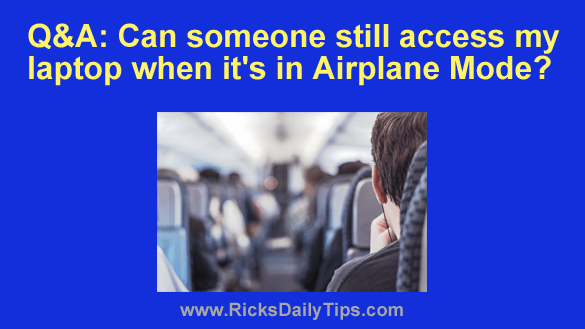 Question from Lawrence:  I'm getting ready to take my first trans-Atlantic flight in over 20 years to visit family in Italy.
I'm hoping to be able to use my laptop to play solitaire and Mahjongg while we're in the air to pass the time.
My concern is this: I've heard that hackers can break into a laptop via WiFi and I have info on there that I need to keep private.
I know my laptop has an Airplane Mode. If I turn it on will that prevent other passengers from being able to break into my laptop?
Rick's answer:  Lawrence, the short answer to your question is yes. Putting your laptop in Airplane Mode will definitely protect it from any kind of wireless intrusion.
If all you really want to do is play those games on your laptop you can put it into Airplane Mode and not have a worry in the world.
Now that being said, if the airline you'll be flying offers WiFi, using the Internet would give you a lot more options for your in-flight entertainment (but probably at an extra cost).
While airplane WiFi is far from secure, there are things you can do to ensure that your WiFi use will be safe:
1 – Thoroughly check your laptop for malware right before you leave for the airport to make sure the machine is malware free.
2 – Use a really good Virtual Private Network (VPN) like IPVanish to protect your Internet communications from being intercepted and/or hijacked.
3 – To be extra safe, don't visit any websites or sign into any online accounts that require you to log in with a password.
I hope this helps, Lawrence. Good luck!
Update from Lawrence:  Thanks for the info, Rick. I think I'll just stick with the games for trip, but I really appreciate you letting me know about the WiFi tips. Very helpful!
---