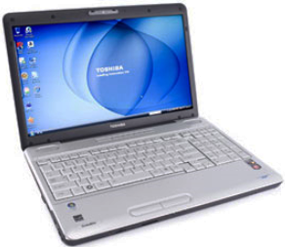 Question from Shauntelle G:  Hi Rick. I know this is probably going to sound stupid because I don't know a lot about how computers work, but I have a question. I have a Toshiba Satellite L505 laptop with 3GB RAM and Windows 7.
I was told that upgrading Windows 7/32bit to the 64 bit version would give me more RAM. If so, how much more would it give me? Also, how can I find out which version of Windows 7 the laptop has on it?
Rick's answer:  Hello Shauntelle. First of all, your question isn't stupid at all. You'll never know if you don't ask! Now, for the answer… 
Upgrading Windows 7 from the 32 bit version to 64 bit won't give a computer any more memory than it already has installed. What it will do however is allow your computer to "see" and use all the RAM that is installed (up to the maximum amount of RAM supported by the motherboard).
A computer running 32 bit Windows will "see" somewhere around 3.5GB of RAM even if more is actually installed. For example, your Toshiba Satellite L505 has 3GB of physical RAM installed, therefore what you see on the System Information screen is something close to that amount. And that amount will be the same regardless of whether your Windows installation is 32 bit or 64 bit.
If your laptop happens to be running 32 bit Windows, installing the 64 bit version won't automatically give it more RAM. You would have to actually upgrade the physical memory as well (the Satellite L505 can be upgraded to a maximum of 8GB).
On the other hand, upgrading just the RAM itself without also upgrading the operating system to 64 bit would still give you just a little over 3GB of usable RAM regardless of how much additional physical memory you install.
The first thing you need to do is find out for sure which version of Windows 7 your PC is running. Here's how:
1 – From the Desktop, right-click on the Computer icon.
2 – Click Properties. Find the "System Type" entry and it'll tell you whether your Windows 7 installation is 32 bit or 64 bit.
It's a pretty fair bet that your laptop is already running the 64 bit version of Windows 7. If so, all you need to do is add more physical RAM.
Update from Shauntelle:  I did the check you suggested and my computer is already running the 64 bit version of Win 7. I plan to take it to Best Buy and let them upgrade the RAM for me. Thanks so much for your help!
---
Do you have a tech question of your own for Rick? Click here and send it in!