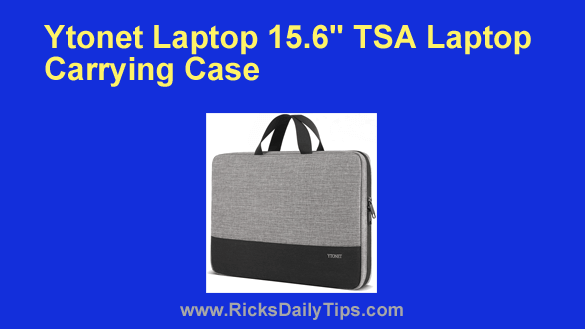 Note: The links in this post are affiliate links.
If you do a lot of traveling you know how cumbersome it can be carrying a bulky (and heavy) laptop backpack along with your other belongings.
I recently had an opportunity to check out a slimmer and lighter laptop carrying case that makes taking your laptop onto a plane a lot easier. 
The Ytonet Laptop 15.6″ TSA Laptop Carrying Case strikes a really good balance between size, weight and protection from damage.
To be sure, this case isn't going to hold much more than your laptop, its charger, a mouse and perhaps a few smaller items, so if you need to carry much more than that you'd be better served by choosing a more traditional laptop bag.
That being said, if your over-riding goal is to travel as light as possible this case would be an excellent option.
Here's a view of the case folded open and laying flat: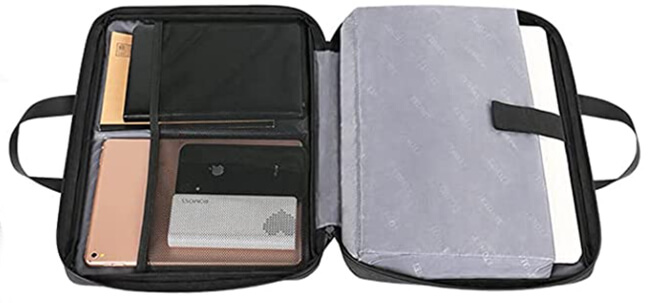 And a closed view:
This case appears to be well-constructed so it should last a good long while. The nylon fabric outer surface is durable, but it also tends to show dirt and stains more than a solid black backpack would.
A standard-size 15.6 inch laptop fits inside nice and snug, and it's protected about as well and it can be with such a slim and compact case.
Bottom line: If you're looking for a laptop bag that's easy to carry and lightweight, yet provides a decent amount of protection, I believe this one would be a great choice.
However, if you need space inside to carry more than just a few small gadgets you'd be better off choosing something a bit larger.
Click here to read more about the Ytonet Laptop 15.6″ TSA Laptop Carrying Case at Amazon.
---