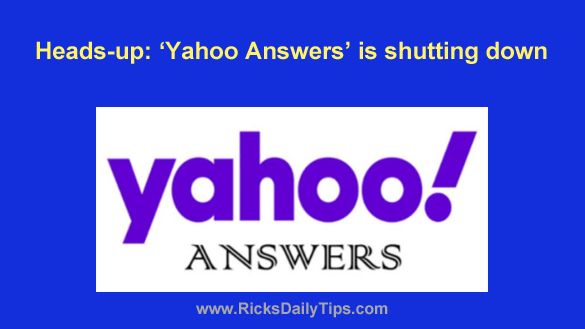 Yahoo has been a major player in the online world from virtually day one, and for the longest time one of my favorite sections of the site was Yahoo Answers.
If you're unfamiliar with Yahoo Answers, it's basically a much older, but less-polished version of Quora.
Back in the day I really enjoyed spending time reading the questions and answers posted there, and there was about a two year stretch when I interacted with the other users there quite a bit.
But then strange things started happening over there…
Many of the answers I posted for the questions that interested me started vanishing without a trace, for no apparent reason.
After doing a bit of behind-the-scenes investigating I discovered that the same thing was happening to other users' answers as well.
And there seemed to be no rhyme or reason to the disappearing answers. People would just return to the site the next day to find that their answers were gone.
Another problem that eventually affected the Yahoo Answers community was the removal of valid, but unpopular opinions that apparently didn't quite match the views of the moderators.
In many of those cases, the opinions would be removed in real time while the user was still on the site.
To be fair, Quora has this problem too, but it's nowhere near as bad over there as it is on Yahoo Answers.
Long story short, it eventually became apparent that the Yahoo Answers platform was simply unsustainable long-term unless some serious changes were made.
And alas, they never were.
Over time I stopped visiting Yahoo Answers except on very rare occasions when I had a special reason for doing so.
Truth be told, I wasn't a bit surprised to see this message at the top of the Yahoo Answers home page when I visited it this morning for the first time in several months:
It always amazes me when these huge tech companies allow one of their most popular (and most useful) services just wither and die on the vine due to mismanagement.
But unfortunately, it happens all the time.
So what does this mean for you?
Probably not much unless you use Yahoo Answers to either get answers to questions of your own or drive traffic to your blog or website by answering the questions that are posted by others.
Still, it's sad to see something that millions of people once used on a daily basis go down in flames like this.
I guess that's just the nature of the corporate Internet world.
---
Never miss a tip!  Click here to sign up for my free Daily Tech Tips Email Newsletter!