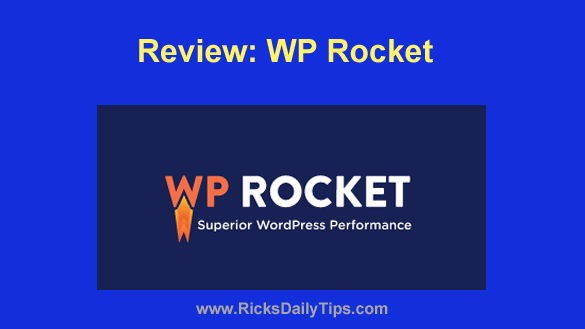 Note: The links in this post are affiliate links.
I've been blogging for the better part of a decade and I thought I knew pretty much everything I needed to know about the technical side of working with WordPress.
One of the most important things I've learned over the years is how critical it is to have a good caching plugin installed on your blog.
Simply put, if your blog doesn't have a caching plugin working 24/7 to serve static pages to its visitors it's going to lag behind its competitors in two very important ways: 
1 – User Experience – No one wants to sit and wait while a web page loads in their browser. They'll click the "Back" button and try a different site instead.
2 – Search Engine Rankings – Some while back Google and the other major search engines began taking page load speeds into consideration as part of their ranking algorithms.
All other things being equal, pages that load faster in visitors' browsers will rank higher in the search results than slower loading pages.
And let me tell you, that second one is huge.
Why? Because if your blog doesn't show up on the first page of the search results for its target search terms it will receive a paltry amount of search traffic.
And in case you haven't heard, Google has just started placing even more emphasis on page load speeds as part of their new Core Web Vitals initiative.
In short, if your blog's pages aren't meeting the Core Web Vitals standards your blog will almost certainly start seeing a drop in its search rankings. In fact, you might have already noticed a drop.
And that brings us back to the importance of using a really good caching plugin…
There are several technical aspects of every WordPress blog that can negatively affect it's page load speeds, and a good caching plugin can help reduce (or even eliminate) those negative effects.
I've used just about every free WordPress caching plugin out there, and truth be told I thought they all did a pretty good job at keeping my blog loading quickly in my visitors' browsers.
And truth be told, I thought the one I'd been using for the past couple of years was doing an exceptionally good job.
But then along came Core Web Vitals and Google's recommendation to check our blogs' page speeds using the PageSpeed Insights tool…
I ran the PageSpeed Insights test on my blog's home page and the results were shocking. Check out the screenshot below:
As you can see, the score my blog's home page received for the mobile test was a miserable 39/100!
A score of at least 90 is required to meet the new Core Web Vitals standard, and my blog was wasn't even close to that.
Luckily, the score my blog received for the desktop test was a lot better. In fact, it was a very respectable 95/100.
The problem is, Google and the other search engines now determine their search results based upon how well a site's mobile pages perform. Performance of desktop pages are mostly irrelevant.
Since there's a lot more info (both text and images) on the home page, I thought surely one of my blog's internal pages would score better. Turns out that wasn't actually the case…
I ran a quick test on my blog's "About" page (which is about as "lean" as a page can be). The "mobile" test score for that page ended up being an equally miserable 44!
What made those results so disappointing was the fact that my blog was using what is widely considered to be the "cream of the crop" among free caching plugins.
Clearly, I has some work to do…
I did some checking around to see what other bloggers were doing to increase their PageSpeed Insights scores only to find out I was already doing virtually everything they were doing.
Just as I was about to give up and accept the fate of having a blog that didn't meet the Core Web Vitals standards, I stumbled across a post by another blogger who claimed to have "rocketed" (his term, not mine) his blog into the green 90's with PageSpeed Insights simply by installing a premium caching plugin called WP Rocket.
Now regular readers of this blog know I'm a huge fan of free plugins. Virtually all of the plugins I use on my blogs and recommend to other bloggers are free. And to be honest, that has worked out quite for me well over the years.
But in this case I decided it was worth the chance to go ahead and lay out a few bucks and give WP Rocket a try.
And I'm so glad I did.
I purchased WP Rocket and installed it on my blog. I didn't do anything else. I didn't change any settings whatsoever. All I did was install and activate it.
I immediately ran another test at PageSpeed Insights and saw that the desktop score for my blog's home page had went up to a perfect 100/100. Of course that was really no big deal since it had started at an already awesome 95.
But then I saw the mobile score…
Just installing the WP Rocket plugin and making no settings changes whatsoever increased the mobile score from 39/100 to 87/100.
Now that's a dramatic improvement, but it still didn't quite get me to golden (or I guess I should say green) 90/100 level.
Encouraged by the improvement made thus far, I spent a few minutes going through WP Rocket's settings and made the settings changes the plugin was recommending that I make.
Every setting was clearly explained, both in how it could help speed up the blog and how to implement the change.
And when necessary, there were also warnings about potential issues a change could cause and what to do to fix an issue if one arose.
I've been installing, tweaking and using WordPress plugins for years and I'd never seen one that was as easy to configure for optimal performance as WP Rocket.
I could go into great detail about the various settings I changed per the plugin's recommendations, but the plugin itself explains those a lot better than I can.
Suffice it to say I was extremely pleased with the results those settings changes produced.
Check out the PageSpeed Insights results my blog received right after I had finished making that handful of quick settings changes:

With WP Rocket caching my blog's pages and making a few other critical behind-the-scenes adjustments, my blog's mobile PageSpeed Insights score went from a miserable 39/100 to a "close-to-perfect" 97/100!
Now, thanks to WP Rocket I won't have to worry about my blog's search engine rankings tanking due to a poor user experience (as defined and measured by Google).
Bottom line: If you're like me you want your blog to load as quickly as possible and rank as highly in the search engines as it possibly can.
If your blog is struggling to meet the guidelines set forth by Google's Core Web Vitals initiative I strongly recommend that you give WP Rocket a try.
Yes, it'll cost you a few bucks. But if the success of your blog is as important to you as mine is to me, it'll be worth it.
What's more, you have nothing to lose simply by trying because WP Rocket has a 14 day refund policy. If you install the plugin and it simply doesn't meet your expectations they'll give you your money back.
---
Cick here to ask me a tech question.